Sites that send enough traffic to YouTube will soon start getting something in return. A new "as seen on" feature will effectively thank significant sources of YouTube viewers, giving them credit – and a link – at the bottom of videos' pages.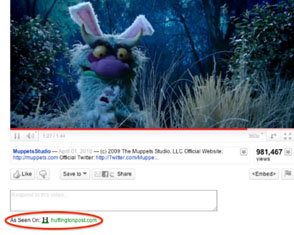 For now, the feature's experimental. Also, YouTube's only using it connection with popular videos, and a sample screenshot (see right) implies that only one site will receive acknowledgment per video, which could make it hard or impossible for regular bloggers to get recognized.
YouTube's promised that the feature will become permanent "soon," however, and we have an email out to the company concerning those other matters.
UPDATE: YouTube spokesperson Chris Dale responded to our questions by stating, "We're currently rewarding one site that 'made' the video popular early on by contributing a significant volume of traffic." Also, "A blog/site needs to contribute heavily to the views of a video to be rewarded. We'll continue to work on that threshold, but there isn't a class of popular videos to which we will restrict this feature."
This is a fairly neat element regardless of those issues, too. A post on the official YouTube Blog explained, "What this means is that you can get recognition for sourcing videos that your readers love and helping those clips become popular on YouTube. It's another way all that hard work you put into building your readership can pay off and generate even more traffic for your blog or site. You might even get your site in front of a whole new audience via people who encounter it for the first time on YouTube."
Now, for your viewing enjoyment, we offer not only the video from the screenshot, but a second and possibly better clip featuring Beaker(s).