Google is launching ads on the home page, search page, and browser page on the mobile version of YouTube in the U.S. and Japan.
"This is a great way for advertisers to reach YouTube viewers across multiple platforms," says Google Strategic Partner Development Manager Taylor Cascino. "In fact, at launch YouTube will immediately provide one of the largest audiences for a mobile ad campaign anywhere on the mobile web. And because YouTube mobile attracts early adopters, the site can deliver to advertisers a coveted demographic of tech savvy trendsetters. We've already seen some early campaigns run on YouTube's mobile site by advertisers like Sony (for the DVD release of "District 9") and Kia, both of whom were able to easily reach their target audience, no matter where they were looking for video."
YouTube's mobile site traffic grew by over 160% in 2009, and you can probably expect that growth to continue along with smartphone usage. Don't forget that YouTube is the number 2 search engine on the web. That's a lot of people searching for videos.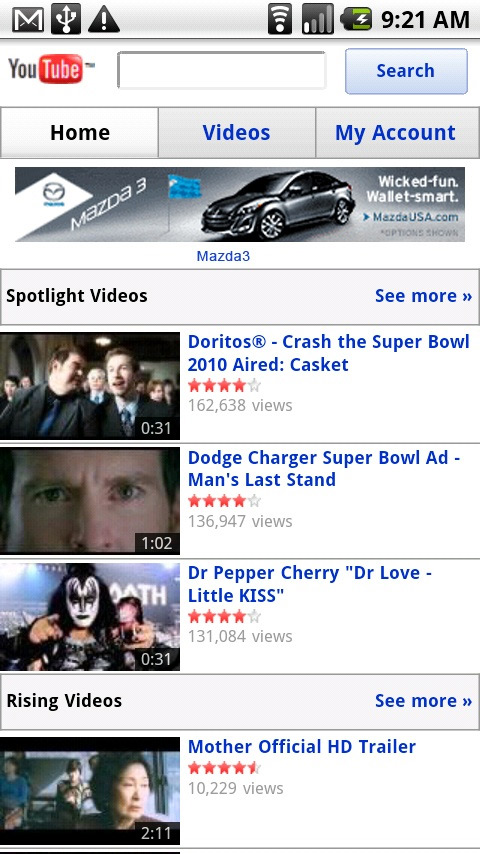 "The increased usage of high-end devices like the iPhone and Android is also making mobile advertising easier and more effective for advertisers," says Cascino.
Ads on the YouTube mobile site will come in the form of banner ads sold on a full-day basis. YouTube tested the mobile ads with brands like L'Oreal and Land Rover, and the company says these showed strong results in terms of click-throughs, user experience, and brand awareness.