During the month of May 183 million U.S. Internet users watched online video, according to the latest figures from comScore.
YouTube saw record levels of viewing activity during the month with an all-time high of 14.6 billion videos viewed and surpassing 100 videos per viewer for the first time.
U.S. Internet users watched nearly 34 billion videos in May, with Google sites leading the way with 14.6 billion videos, representing 43.1 percent of all videos viewed online. YouTube account for the majority of videos viewed at the property.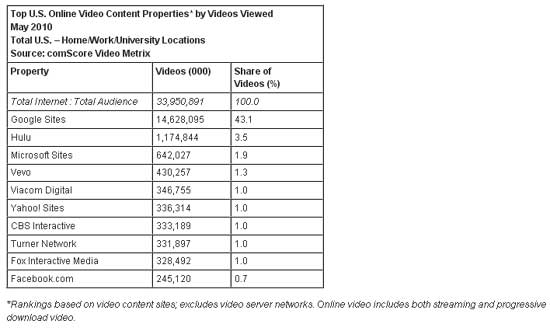 Hulu took the second spot with 1.2 billion videos, or 3.5 percent of all online videos viewed. Microsoft sites ranked third with 642 million (1.9%), followed by Vevo with 430 million (1.3%) and Viacom Digital with 347 million (1%).
Google sites attracted 144.6 million unique viewers during the month (101.2 videos per viewer), followed by Yahoo sites with 46 million viewers (7.3 videos per viewer), and Vevo closely trailing with 45.6 million viewers (9.4 videos per viewer). Vevo moved up one spot in the May ranking to the third position.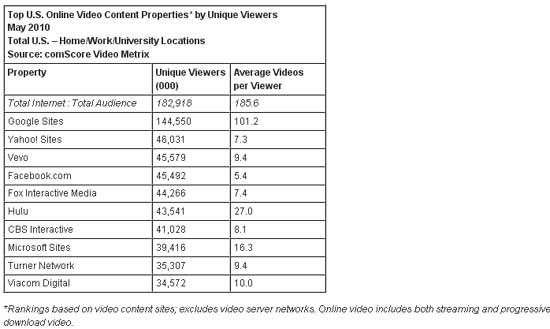 In May, Tremor Media ranked as the top video ad network with a potential reach of 102.8 million viewers, or 56.2 percent of the total video viewing audience. ScanScout Network ranked second with a potential reach of 99.3 million viewers (54.3 percent penetration) followed by YuMe Video Network with 87.5 million viewers (47.8 percent).
Other highlights from the comScore report include:
*84.8 percent of the total U.S. Internet audience viewed online video.
*The average Hulu viewer watched 27.0 videos, totaling 2.7 hours of video per viewer.
*The duration of the average online video was 4.3 minutes.