YouTube has changed the default size for embedded videos. By default they're getting bigger at either 480×385 for a 4:3 video, or 640×385 for a 16:9 video. YouTube says it went with these sizes, because they will give most viewers the best viewing experience because they better match current video encoding sizes.
"A video's life on YouTube is just the beginning; embedding gives it a life off of the site. Just look at your favorite blogger and they're likely to be embedding YouTube content in their posts," says YouTube Senior Web Developer Geoff Stearns. "In fact, almost every popular video on the site is first made famous by embeds on the Web. That number can be as high as 50% of views in the first 48 hours, kicking off a great cycle."
"When using the 'Play in HD' option, it's best to embed the player at a very large size (at least 1280×745) in order to accommodate the large size of the video," says Stearns. "If you play HD video in a small player, the user's computer will have to scale down the video to fit within the player, costing the user extra CPU cycles and bandwidth, which may result in choppy playback. It's always best to play the video size that best fits the size of the video player. And if you want even better performance when watching HD content, you can choose to watch it in full-screen."
When users click the embed code, on a video page, they will be able to choose the following for the video player:
– The color and size
– Whether or not to include related videos
– Whether or not to display the player border
– Whether or not to play in HD by default — triggers video resolutions of 1280×720 (720p) or 1920×1080 (1080p)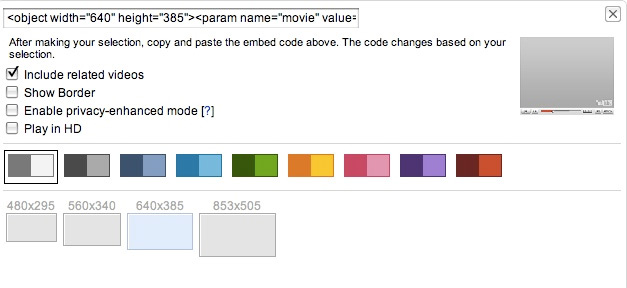 This week YouTube also expanded its auto-captioning program. This is a tool that combines some of the speech-to-text algorithms from Google's Voice Search to automatically generate video captions when requested by viewers. More on that here.