Late yesterday, Yahoo Southeast Asia got what may be a big leg up in the social networking arena. Yahoo Southeast Asia established a partnership with Friendster that will see the two entities doing a great deal of cross-promotion in the near future.
Friendster has over 90 million registered users, and about 90 percent of its daily traffic comes from Southeast Asia, so the arrangement is a rather significant deal. Yahoo stands to benefit as Friendster is putting ads for Yahoo services all over users' homepages and profile pages. Then Yahoo will receive some additional exposure when Friendster incorporates its search results.
As for what Friendster gets out of the equation, a Friendster application has already been granted a spot on the Yahoo homepages in Indonesia, Malaysia, the Philippines, and Singapore. Plus, Friendster users are supposed to obtain the option to link a Friendster account to a Yahoo account.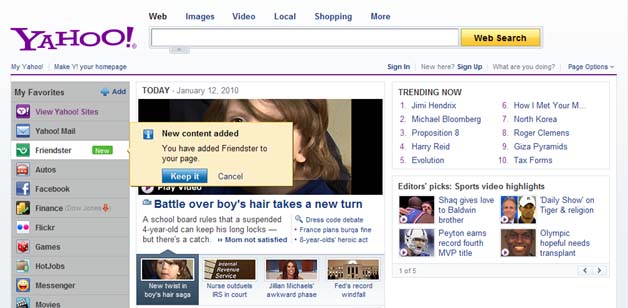 Both sides seem more than pleased about the arrangement. Ken Mandel, the vice president and managing director of Yahoo Southeast Asia, said in a statement, "Working together with Friendster ensures Yahoo! remains relevant to people by offering the best online content and experiences."
He then added, "This is a major milestone in the Yahoo! Open Strategy, our combined services will enrich the online environment allowing people to get more done faster and in a single place."
Related Articles:
> Yahoo Shopping Partnership With PriceGrabber Arranged
> Yahoo Partners With Electus On Original Content