However else Yahoo's shareholders may feel about the company's financial situation, they can perhaps take comfort in the idea that Carol Bartz won't be wasting lots of money on champagne and confetti today. Yahoo's second quarter earnings report didn't contain much news the CEO could celebrate.
The company failed to hit three out of four major targets. First, in terms of gross revenue, it reported $1.60 billion instead of the $1.64 billion analysts expected. Second, with respect to net revenue, Yahoo reported $1.13 billion rather than $1.16 billion. Then, Yahoo reported $175 million, not $178 million, in operating income.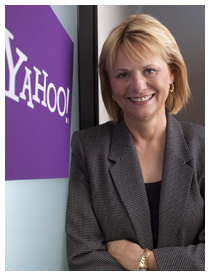 The bright spot – and it's not a big one – just came with Yahoo reporting GAAP earnings per share of $0.15 instead of $0.14.
Also, for whatever it's worth, Bartz said in a statement, "We're pleased that we continued to deliver strong operating income and margin expansion. Our search fundamentals are improving . . ."
But investors literally aren't buying it, sending Yahoo's stock down 7.24 percent so far in after-hours trading. Which makes for a worse fall than the one Google suffered after delivering its second quarter earnings report; it was down only 4.02 percent around this time of day.
Yahoo fans who want to put these results behind them should know that the company announced, anyway, "Revenue for the third quarter of 2010 is expected to be in the range of $1,570 million to $1,650 million. Income from operations for the third quarter of 2010 is expected to be in the range of $160 million to $200 million."