At the Consumer Electronics Show in Vegas, Yahoo announced that it's introducing some new connected TV features, partnerships and apps.
For one, Yahoo announced "Broadcast Interactivity" to launch with select national broadcast and cable TV providers and brand advertisers. The company is collaborating with ABC, CBS, HSN, and Showtime on content for a pilot program in the first half of 2011. Brand advertisers Ford, Mattel and Microsoft are also planning to work with Yahoo on this.
"Our collaboration with leaders in television and brand advertising, combined with the innovative technologies we're pioneering, signals the beginning of a new era of highly personalized, Internet-enhanced television," said Ron Jacoby, VP, Yahoo! Connected TV. "Imagine an immersive, real-time TV experience that brings people even closer to the programs and brands they love by enabling them to play along while they watch their favorite shows."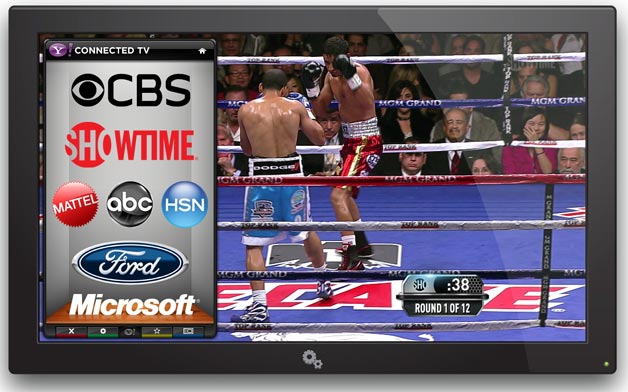 TV programmers will be able to create TV apps that let viewers vote for reality TV participants, get more info about characters, and even make e-commerce purchases while watching a show.
That last one is one of the most significant aspects of where this whole connected TV thing is going (not just with Yahoo) that businesses should pay close attention to. Getting to people in their living room can be huge for sales and simply capturing attention. This is going to be a very important space to keep an eye on – watching for opportunities in advertising and app experiences.
Yahoo! is working with distribution partners including Broadcom Corporation, D-Link, Haier, MediaTek, Sony and Toshiba for pilot program this year.
Yahoo also demoed three-screen connected device interactivity – interactivity amont tablets, mobile phones and tablets.
More info here.