It's time again for Yahoo's shareholders to get a semi-exclusive earful regarding where the company is headed. Yahoo's scheduled a shareholders' meeting for Thursday, June 24th, for the sake of filling everyone in.
The last time Yahoo held a shareholders' meeting, the company led up to it by announcing a partnership with Nokia the day before. So we should warn investors: there haven't been any hints that something so exciting will occur this time around. Yahoo hasn't even promised that Carol Bartz or other top execs will appear.
Still, this meeting could be a successful one for Yahoo. Chart its stock against Google's, and in one-day, five-day, three-month, and six-month comparisons, Yahoo wins, either gaining more or losing less in terms of percentages.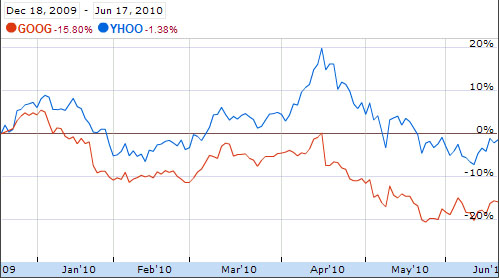 Then it's necessary to consider that Yahoo's integration with Microsoft seems to be occurring right on schedule, and that could mean Yahoo will see a bump or two in revenue sooner rather than later.
We (or more accurately, Yahoo's shareholders) will see soon enough, anyway. The meeting's due to take place at 10 AM California time on Thursday, and although a live audiocast will be available, only stockholders will be let into the meeting.