It's quite a day for local search. Not only has Google launched a new social recommendation engine to tie into its local results, Yahoo has made a handful of announcements having to do with local and social features.
The company is launching local "quick apps" for users to find restaurants they want and "take action on things they discover in a more productive Yahoo! Search," as they put it. Later this week, Yahoo will launch a new version of Yahoo Sketch-a-Search, which lets users for visually "zero in" on a street or neighborhood to find local restaurants. This can be done from any connected device.
"Other new apps will enable easy comparisons of local restaurants and let people make reservations through OpenTable right on the Yahoo! Search results page," the company says.
Yahoo also announced the launch of Local Offers, which is a program the company is partnering with local offer providers on. Yahoo says they're working to "build one of the largest and most comprehensive repositories of local offers on the Internet."
Partners include: Groupon, LivingSocial, Gilt City, BloomSpot, BuyWithMe, DealOn, Zozi, CrowdSavings, Lifebooker, FreshGuide, Scoop St, Goldstar, HomeRun, Tippr, Coupons.com, and Valpak.
"The local landscape is exploding with new sources of content and advertising, and consumers want these experiences personalized just for them. Yahoo! is taking the complexity out of finding the great local deals that are most relevant to their interests and needs," said Yahoo Local VP Matt Idema. "With more than 180 million unique visitors to Yahoo!s sites in the U.S., we are uniquely positioned to deliver our local-offer partners the massive scale and targeting needed to reach engaged audiences, grow their businesses, and drive foot traffic to local merchants."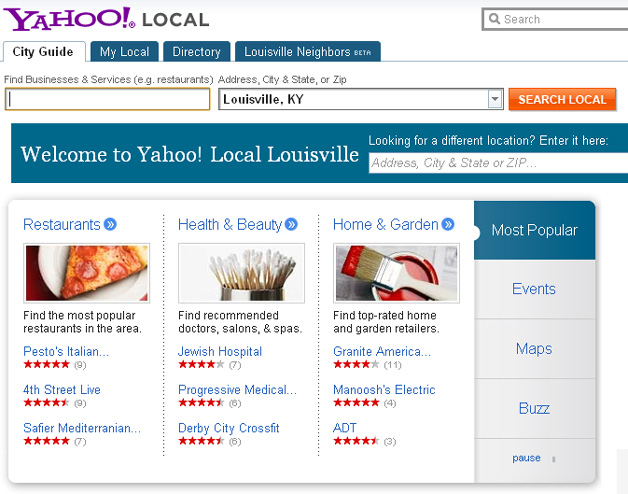 Local Offers is in limited beta in the United States only at this point.
Clearly, it's an exciting time to be a local business. The web is catering to these businesses like never before, and that's both from mobile and the desktop.
Yahoo also announced Twitter and Zynga integrations across its properties. People can connect their Twitter accounts with their Yahoo accounts to see and share Twitter updates on the Yahoo homepage, Yahoo Messenger, Yahoo Mail, and Yahoo Pulse. The Zynga integration will allow people to launch, play, and share games on Yahoo Messenger, Yahoo Games, My Yahoo, Yahoo Toolbar, and Yahoo! Pulse. Yahoo also rolled out a new Yahoo Messenger Beta with new social features.
"Our job is to connect you with the people, places and things that matter most to you – whether that's making a restaurant reservation, finding a discounted tee time, or playing popular online games with friends," said Blake Irving, EVP and chief product officer at Yahoo.
It's interesting that both Google and Yahoo have made new announcements that involve both local and social together, yet in very different ways. It's also interesting that not only are local and social so closely related, but increasingly local and gaming. Look no further than the slew of check-in apps if you don't know what I mean.
Foursquare CEO Dennis Crowley recently declared his love for Super Mario Bros. right alongside his vision for turning Foursquare into a much more useful platform for users and local merchants. In fact, a great deal of the conversation at ad:tech New York a couple weeks ago was about location-based services (LBS) and ways that businesses have used them in the past, are using them today, and will use them in the future. Much of this is directly related so some kind of gaming. It's a fascinating development in the industry.
It's not all fun and games though. Yahoo also reminds us today about trend tracking. The company announced Yahoo Clues Beta, a new tool for looking at search trends.