Yahoo Mail users should find it considerably more convenient to get in touch with their friends and acquaintances from now on. Today, Yahoo and Facebook made it possible for those users to add their Facebook friends' email addresses to their Yahoo Contacts lists.
The benefits should be obvious. A post on the Yahoo Mail Blog pointed out, "So when you are on Yahoo! Sports and you want to email your old high school buddy that great article on the Winter Olympics, his email address is just a click away. Or maybe you want to forward your cousin your airplane reservations on Yahoo! Mail . . . . [n]ow you can type the first few letters of his name in Yahoo! Mail and – presto! – his email address from his Facebook profile will appear in your email."
The import process is extremely simple, too. Users just need to head to the "Import Contacts" page, click on Facebook's logo, enter their Facebook login info, and wait a few moments for all of the data to transfer.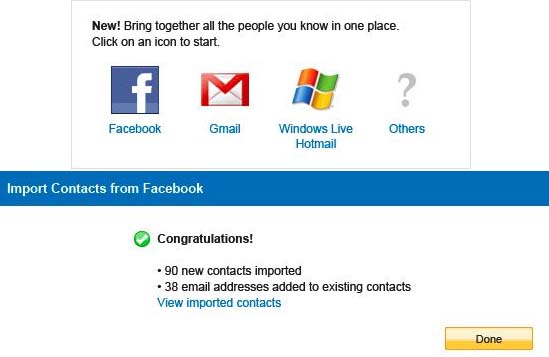 Whether this development will be enough to make Gmail or Hotmail users give Yahoo Mail a chance is hard to say, but this at least represents a significant step forward in terms of user-friendliness for existing Yahoo Mail fans.
More tie-ups between Yahoo and Facebook are on the way, too, according to Andrew Molyneux, a program manager over Yahoo Mail.