In 1988, a movie released which helped to spark mainstream interest in animation again, the movie was titled 'Who Framed Roger Rabbit'. All sorts of various studios across the medium banded together to provide cameos for various animated characters, who would show up in the movie. It was a resounding success, with both critics and movie-goers alive. Now, enter Wreck-It Ralph, which looks as though it will be the spiritual successor to this idea but with video game characters instead of the animated variety.
Disney, just go ahead and take another wad of cash from my hands. It wasn't enough to get my hard earned money for The Avengers, but now you are really hitting home with a 3D animated movie, based around a group of video game characters. Many of which I really like and grew up with, based on what has been shown in the teaser image below.
I want this image as a poster.
(Click to Enlarge)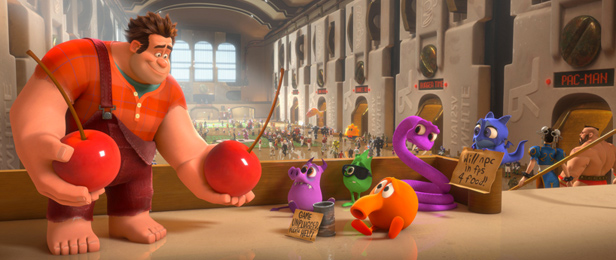 Here's the official synopsis for the movie…
Walt Disney Animation Studios and Emmy®-winning director Rich Moore (TV's "The Simpsons," "Futurama") take moviegoers on a hilarious, arcade-game-hopping journey in "Wreck-It Ralph." Ralph (voice of John C. Reilly, "Talladega Nights: The Ballad of Ricky Bobby," "Step Brothers") is tired of being overshadowed by Fix-It Felix (voice of Jack McBrayer, "30 Rock"), the "good guy" star of their game who always gets to save the day. But after decades doing the same thing and seeing all the glory go to Felix, Ralph decides he's tired of playing the role of a bad guy. He takes matters into his own massive hands and sets off on a game-hopping journey across the arcade through every generation of video games to prove he's got what it takes to be a hero.

On his quest, he meets the tough-as-nails Sergeant Calhoun (voice of Jane Lynch, TV's "Glee") from the first-person action game Hero's Duty. But it's the feisty misfit Vanellope von Schweetz (voice of Sarah Silverman, "The Sarah Silverman Program") from the candy-coated cart racing game, Sugar Rush, whose world is threatened when Ralph accidentally unleashes a deadly enemy that threatens the entire arcade. Will Ralph realize his dream and save the day before it's too late?
If you clicked on the image above and looked further into the details of the image, you'll notice a few things. Beyond the obvious Q-Bert and Street Fighter characters in the foreground.
First, if they're going for the glorious arcade days, then Mario and his friends wouldn't be too hard to imagine showing up in the movie. In fact, below you can see what looks to, perhaps, be a Koopa. We know Bowser is showing up. If so, there's a strong possibility we might get a Mario cameo in Wreck-It Ralph.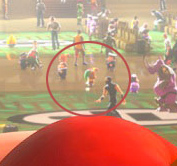 Moving to the right a bit, we see yet another Capcom staple with M. Bison from the Street Fighter series. If Capcom is throwing in on this, then there are all sorts of amazing possibilities for cameos.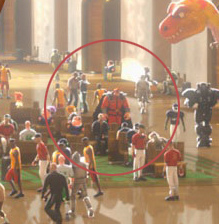 Freaking Burger Time, are you kidding me. Even I forgot all about this gem from the heyday of arcade titles.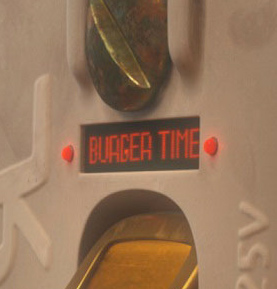 Along with Capcom, Konami looks to be another developer/producer who will be providing possible characters. Proven by what looks to be a portal to 'Dance Dance Revolution'.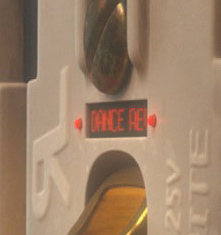 The movie will follow core characters, so established properties will be provided by cameos, which is perfectly fine. Below are the images for Sergeant Calhoun and Vanellope von Schweetz, each from hardcore FPS and sugary sweet kart games, respectively. I like both FPS's and kart games, so consider me signed on for these side characters.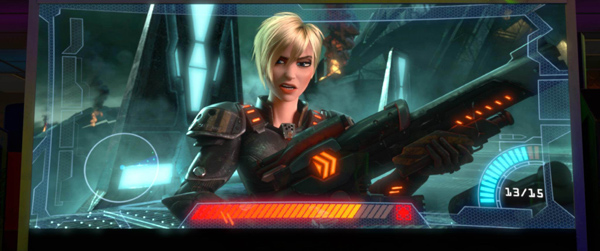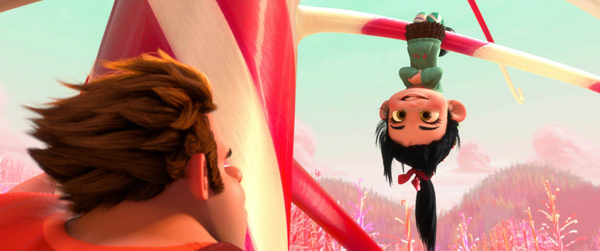 I really like the director choice, Rich Moore, who has worked on both The Simpsons and Futurama. For a movie such as this, you need someone who has a finger on the pulse of pop culture. The "Will NPC in FPS 4 food" sign made me chuckle. In fact, everything they've announced concerning this movie has me sold.
What do you think? Do you like the idea of a video game based Disney movie, which looks to feature cameos from a wide list of developers?