The Internet Society, a nonprofit organization for Internet standards has announced World IPv6 Day to take place on June 8. This is a day in which major web properties like Google, Facebook, and Yahoo (the three of which make up a combined billion visits per day) join major content delivery networks like Akamai and Limelight Networks for a 24-hour global trial of IPv6, the next-generation Internet protocol.
The need for the new protocol arises as the older IPv4 runs out of room. "IPv4 has approximately four billion IP addresses (the sequence of numbers assigned to each Internet-connected device)," the Internet Society explains. "The explosion in the number of people, devices and web services on the Internet means that IPv4 is running out of space. IPv6, the next-generation Internet protocol, which provides over four billion times more space, will connect the billions of people not connected today and will help ensure the Internet can continue its current growth rate."
"In the short history of the Internet, the transition to IPv6 is one of the most important steps we will take together to protect the Internet as we know it," says Vint Cerf, Google's Chief Internet Evangelist and co-inventor of the TCP/IP protocol stack. "It's as if the Internet was originally designed with a limited number of telephone numbers, and we're soon going to run out."
Google has actually offered a separate IPv6-only version of search since early 2008. On June 8, Google will try the protocol out on sites like Google.com and YouTube.com.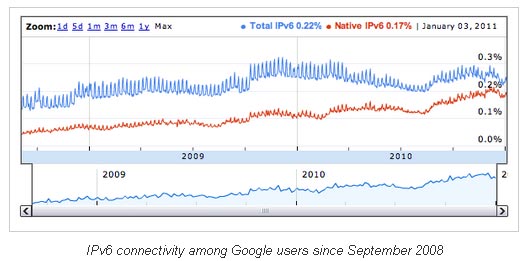 "The good news is that Internet users don't need to do anything special to prepare for World IPv6 Day. Our current measurements suggest that the vast majority (99.95%) of users will be unaffected," says Google network engineer Lorenzo Colitti. "However, in rare cases, users may experience connectivity problems, often due to misconfigured or misbehaving home network devices. Over the coming months we will be working with application developers, operating system vendors and network device manufacturers to further minimize the impact and provide testing tools and advice for users."
Adam Bechtel, VP of Yahoo's Infrastructure Group says, "Participating in World IPv6 Day will allow us to obtain real-life data that we can use to ensure a seamless user experience as we transition to IPv6. We welcome this opportunity to collaborate with the technical community and provide leadership in addressing the scaling challenges facing the Internet."
"As an industry, we're working together to ensure future generations continue to have open and direct access to the Internet as we do today," adds Jonathan Heiliger, VP of Technical Operations at Facebook. "The number of web-connected devices is exploding, and World IPv6 Day is a crucial step in ensuring they can all communicate."
The Internet Society is calling for other website owners and network operators to take part in the event as well. The organization also has a test you can take to find our your IPv6 readiness.