Microsoft and WordPress announced today that WordPress.com is becoming the default blogging platform for Windows Live Spaces. The two companies have worked together on a migration service for Spaces bloggers to easily bring all their posts, comments, and photos to WordPress.com.
"They have a host of impressive capabilities – from a scalable platform and leading spam protection, to great personalization and customization," writes Dharmesh Mehta, Director, Windows Live Product Management. "WordPress powers over 8.5% of the web, is used on over 26 million sites, and WordPress.com is seen by over 250 million people every month. Not only that, Automattic is a company filled with great people focused on improving blogging experiences. So rather than having Windows Live invest in a competing blogging service, we decided the best thing we could do for our customers was to give them a great blogging solution through WordPress.com."
He says there are three bing things they want to deliver with this move:
– Giving existing Windows Live Spaces customers an easy upgrade of their blogging experience to WordPress.com
– Letting anyone connect their WordPress.com blog to Messenger so their Messenger friends are updated when they publish a new post on WordPress.com
– Allowing Windows Live customers to easily create new blogs on WordPress.com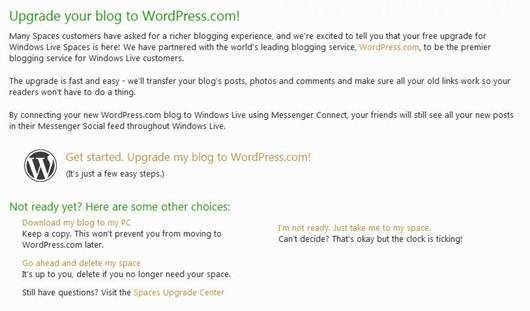 The transition will take place over a six-month period beginning today. Windows Live Spaces users will have the option to move their blogs to WordPress.com. There is a new importer for Windows Live Spaces to WordPress.com. New Windows Live users will also be offered a WordPress.com blog when they choose to create a new blog.
More details about the announcement can be found here and here.