U.S. software retail sales fell slightly by just over 1 percent for the 2009 holiday season, according to The NPD Group.
Sales for the 5-week holiday period totaled $278 million dollars, up from the 13 percent decline during the 2008 holiday season.
The operating systems category showed the strongest improvement during the holiday season, boosted by the sales of Microsoft's Windows 7. Overall operating systems revenue increased from $10 million in 2008 to $29 million in 2009. Education software performed well, with revenue increasing by 15 percent, driven y the strong performance of Rosetta Stone and Topics Entertainment. Business software, which posted flat year-over-year holiday sales, was the highest revenue grossing retail software category, with sales of over $77 million.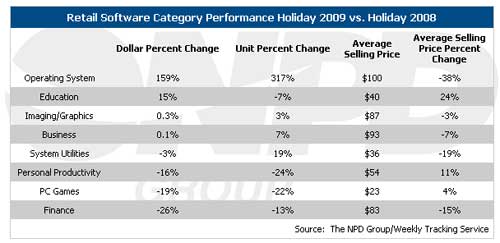 "Despite a slight decline in overall sales, boxed software showed pockets of strength as publishers, especially Microsoft, invested money in holiday promotional activity," said Stephen Baker, vice president of industry analysis at NPD.
"Aggressive pricing on Office 2007 and continued strong sales of boxed versions of Windows 7 added a big kick to retail software sales during the holiday. But weak results in the key utilities category, along with ongoing weakness in PC games sales proved too much for the market to overcome."

Related Articles:
> Bing Gets a Bunch of New Search Features
> Yahoo and Microsoft May Be Close to Signing
> Some Bing Users Seeing Latest Posts on Publisher Searches