We may be looking at a revolution in payments. Square, which launched late last year from Twitter co-founder Jack Dorsey, is now offering a way for anybody with the right mobile device to accept credit card payments for less hassle and fees than before possible.
Square has released clients for the iPhone, iPod Touch, iPad, and Android devices. In essence, what this means is that if you have any of these devices, you can accept credit card payments. Not only is Square now available for these devices, but the company is shipping millions of free card readers. This may be huge for small businesses (not to mention garage sales).

The following clip gives you an idea of just what Square is doing:
Some have noted drawbacks to Square, such as its lack of the ability to handle refunds or delete transactions, but you can probably expect such issues to be resolved.
"When we announced Square December 1st of last year, we estimated that it would be available in the U.S. sometime in early 2010," says Square CEO Jack Dorsey (who also happens to be a co-founder of Twitter. "Since then it has become clear that this product does not have a singular grand launch, but many iterations and refinements."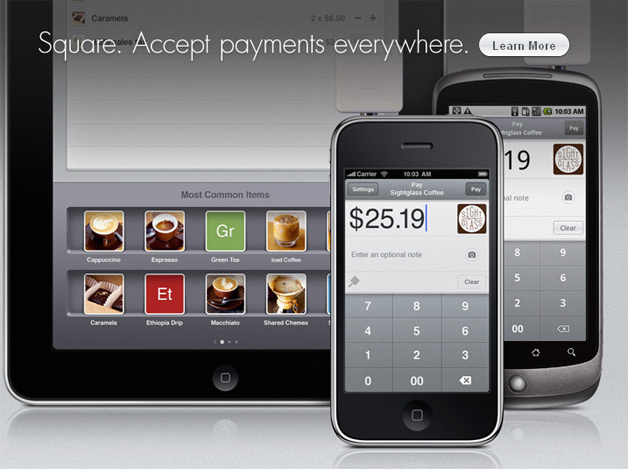 Noah Robischon at Fast Company does a good job of explaining the pre-Square hassle for small businesses of trying to accept credit cards:
Most merchants accept credit cards after being approached by an independent sales organization that offers to set up the process in exchange for a monthly fee, plus a gateway fee, and the cost of a card reader. After that, the card company takes a percentage of every transaction. The lowest rate offered is around 1.79%, but the rate is variable and for reward cards it can run as high as 4% of every sale (it's not the credit card companies that are paying for your free flights, it's the merchants who foot that bill in the end). These fees are deducted from the merchant's account at the end of the month along with any charge backs when someone refutes a sale. This makes it difficult for small and medium businesses to accurately gauge their cash flow from month to month. Maybe that's why, according to a report by the Federal Reserve Bank of Philadelphia, of the 30 million businesses in the U.S. with under $100k in revenue, only 6 million accept credit cards.
With Square there is no merchant account or contract required, there are no monthly fees or premiums and users get free card readers and setup. The rate for when the card is present and is swiped is 2.75% + 15¢. The rate when no card is present and the info has to be keyed in is 3.5% + 15¢.
Do you think Square is going to be a game changer? Share your thoughts.