Microsoft has spent a lot of money promoting Bing since its launch, and Bing's usage has grown by millions of people since then, but it still has a long way to go to reach the top of the search market share mountain. Google is still sitting comfortably atop that mountain of course, but Google doesn't really have to lose for Bing to win. Microsoft has been putting things in motion that have the potential to increase Bing usage by an enormous amount.
Let's Start with the Yahoo Deal
The search and advertising deal between Yahoo and Microsoft has now received its approval from the Department of Justice and other regulators, and appears poised to go into effect by the end of the year, at least in the U.S. The announcement says:
"The companies will begin the transition of algorithmic search and have set a goal of completing that effort in at least the United States by the end of 2010. The companies also hope to make significant progress transitioning U.S. advertisers and publishers prior to the 2010 holiday season, but may wait until 2011 if they determine that the transition will be more effective after the holiday season. All global customers and partners are expected to be transitioned by early 2012."
Search ad inventory from both Microsoft and Yahoo (and their respective partners) will be combined into a unified search marketplace, as the companies put it, giving advertisers access to their combined audience of nearly 577 million searchers worldwide.
Then There's That Other Deal
Compete made some data available this week, showing that Facebook surpassed Yahoo in the U.S. as the second largest site in terms of unique monthly visitors, just behind Google. Earlier this month, Microsoft and Facebook "enhanced" their partnership, which will give Facebook users a "more complete search experience" as Microsoft puts it. Bing will continue to be the exclusive search provider for Facebook's web search results.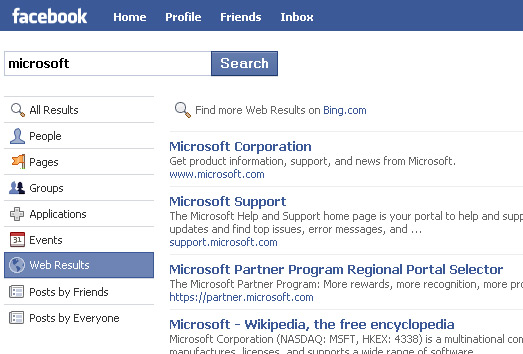 "This change will also enable Microsoft to continue its focus on driving strong performing campaigns across our own social media and communications tools, including Windows Live Messenger and Hotmail, and via rich content environments across MSN and Xbox Live," noted Bing General Manager Jon Tinter.
According to data released by Nielsen this week, the average Facebook user spends about seven hours a month on the site. Now only a fraction of that is probably using the site's web search feature (or Bing feature, if you will). However, Facebook continues to find ways to get people staying on Faceboook for more of their online time. With Bing right within, this is likely going to be an increasingly important segment of Bing usage. Accentuating this point, comScore's latest numbers have Facebook's own search market share increasing by 13% from December to January.
Mobile May Also Play a Vital Role
This week, Microsoft unveiled its upcoming Windows Phone 7 series. This is a series of mobile devices, which Microsoft already has a slew of partners lined up for that will not only come with Windows software, but with a Bing search hardware key. If these phones become popular Microsoft is pretty much guaranteed a significant boost in Bing usage. They should be out for the holidays.
Lately rumors have been swirling about Apple and Microsoft being in talks to offer Bing as the default search engine on the iPhone as well, and if that were to happen, that would also obviously be huge. Google said recently that it has no reason to believe its relationship with Apple is going to change, and that it doesn't comment on rumors, but they think the "relationship is stable." Meanwhile, competition seems to be heating up between those two with each passing day, and Apple going to Bing isn't exactly seeming less likely.
It's Already Growing
Bing's share of the search market is already growing. From Decemeber to January, the number of U.S. searches on Bing grew by 5%, according to Experian Hitwise. Google's share shrank by 1% and Yahoo's by 2%. Of course Microsoft continues to roll out new features for Bing, and will continue to do so along the way. It's hard to speculate what all that might entail, but Microsoft is clearly hellbent on getting more people to search with Bing. Even if Bing is never able to surpass the far more dominant Google in search market share, Bing is on pace to get a lot more people using it.