comScore has revealed some findings on display ads in the U.S. Flash and rich media ads account for 40% of impressions, according to the firm's report. JPEG ads led the market with over 42% of impressions in the U.S., while "leaderboard"-style banner ads (728 x 90) were the most commonly viewed display ad by size.
"We've witnessed a strong resurgence in the display ad market over the past several months, with the number of impressions up 15 percent vs. year ago and average CPMs also continuing to rise," said comScore senior vice president Jeff Hackett. "One of the several drivers of strength in this market has been the innovation occurring with respect to ad units, as larger and more engaging creative ad formats are employed. We are excited to provide our clients with greater visibility into the use of different ad formats and sizes with the new comScore Ad Metrix Creative Summary report."
According to comScore, in April, about 60% of U.S. display ad impressions were GIFs and JPEGs. GIFs represented 14.1%. Here are a couple charts worth looking at: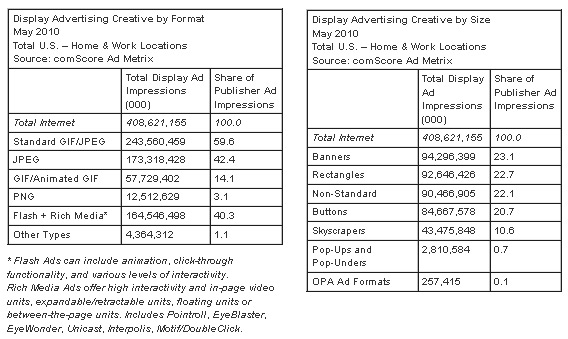 Banners accounted for 23.1% of impressions, followed by rectangles (22.7%) and non-standard units (22.1%).
Pop-ups and pop-unders now represent less than 1% of all display ad impressions, comScore says. Newer OPA ad formats, such as the 970 x 418 pushdown and 468 x 648 XXL box currently account for 0.1% of impressions.