With a built-in audience of millions of hypochondriacs, health information services site WebMD has posted a Q1 earnings report that was slighly better than analyst projections. WebMD, which also hosts information on pet health, posted a revenue of $106.9 million, which was expected, though lost 14 cents per share, a little less than the projected $0.17 loss.
Site traffic was up 37.5% from Q1 2011, with 107 million unique monthly visitors, for 2.52 billion page views, a 34.9% increase. WebMD predicts that it will see revenue between $110-115 million in Q2, which is below Wall Street's projected $123.5 million. For the year, the company predicts it will make $500-535 million, with shares sitting in the range of 5 to 37 cents (?). WebMD stock is late trading for $22.97, up 22 cents, or 1%.
A 2011 Pew study has shown that 80% of internet users in the U.S. look up health information online. The demographics that are most interested in sites like WebMD include caregivers, women, whites, younger adults, and adults with at least some college education. Below is a list of some medical search trends: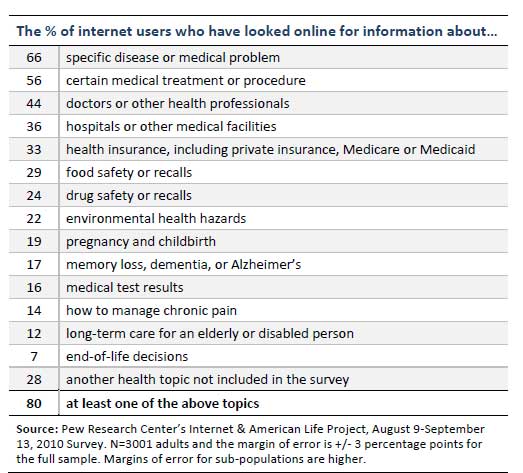 Interestingly, the majority of the users polled utilize the service to confirm their self-diagnoses, and roughly two-thirds of which go on to look up a doctor.