Oh Boy! Oh Boy!  It's Christmas morning, and some people just got a new puppy.  Some people, however, didn't get anything.  ESPN has just unveiled its WatchESPN app that allows users to stream live content to their iPhones and iPads.  Unfortunately, it's not yet available to the large portion of sports fans.
Customers of Time Warner Cable, Bright House Networks, and Verizon FiOS TV are currently the only people that can reap the benefits of the awesome new app.  If you receive ESPN as part of your package with those providers, you now have access to ESPN, ESPN2, ESPN3 and ESPNU on your mobile device.
This is including, but not limited to: NBA regular season and playoffs, Major League Baseball, The Masters and other PGA events, NCAA basketball and football, Grand Slam tennis and Barclay's Premier League and Euro 2012 soccer.  Not only do users have access to live sports, but they can also view ESPN original content like SportsCenter, Pardon the Interruption and Mike and Mike in the Morning.
The app is currently free in the app store.  Once downloaded, users will be prompted to enter their cable provider details.  In May, an app optimized specifically for the iPad will be released.
This app is guaranteed to be huge, as long as the quality of the streaming video can hold up.  Unfortunately for the sports fans that are currently left out, there is no time table for when the app will be available through other service providers and for other platforms.
"Innovation continues to drive ESPN.  When we launched in 1979, nobody envisioned a day when people would carry ESPN in their pockets. But here we are. And we've reached this watershed moment for the industry through tremendous collaboration with forward-thinking partners," said George Bodenheimer, president, ESPN, Inc. and ABC Sports in a press release.  ESPN is expanding access to its content lately, as they recently gave Starbucks access to its subscription service ESPN Insider.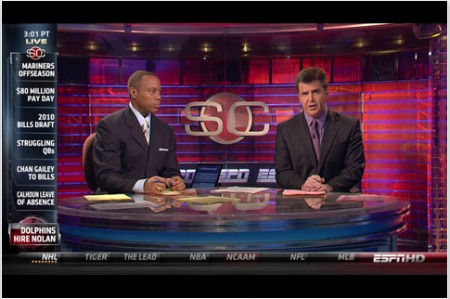 I fall into the "left out" category.  I feel like it's Christmas morning, I'm 10, and I just received Goldeneye 007 and Legend of Zelda: Ocarina of Time – but no N64.  If you get this reference, then you know how bad this hurts.