Walmart has launched a new online video game store called Gamecenter, which the company describes as a one-stop destination for video game previews, first look exclusives and special savings.
To promote the launch of the site, Walmart.com is offering a $50 eGift Card to people that preorder three or more new titles, including "Medal of Honor," "Assassin's Creed: Brotherhood," and "Fallout: New Vegas." Walmart said all videos games ordered can be shipped for 97 cents each.
Each month, Gamecenter will feature new video games along with exclusive content, and special offers for each title. A countdown clock will show the days until the most popular preorder titles are available.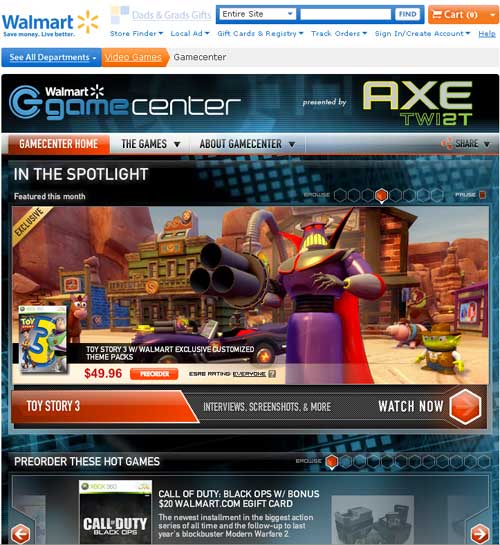 "Walmart Gamecenter combines incredible savings with exclusive gaming content all in a compelling and interactive experience online," says Kelly Thompson, vice president of merchandising for Walmart.com.
"Gaming enthusiasts will be drawn in by the exclusive content and developer interviews, while moms will appreciate the special savings only Walmart can offer on the hottest video game titles."
Customers can upgrade their video game collection through Walmart's online Trade-In program, which allows them to trade their used games and earn Walmart prepaid Visa cards. Used gaming consoles are also accepted for trade-in.