Online music video service, Vevo, was the most visited U.S. website in the entertainment-music category in December with more than 35 million unique visitors, according to comScore.
Partners in Vevo include Universal Music Group, Sony Entertainment and investor Abu Dhabi Media Company. The site is powered by YouTube.
Vevo says its top ranking is an achievement because it did not launch until December 8 and it was not live for the full month of December, which comScore bases its results.
"The Vevo Network, which is still in its infancy, has debuted at the top of the comScore rankings for unique visitors across the Entertainment-Music category in the U.S.," said Rio Caraeff (President and CEO, Vevo).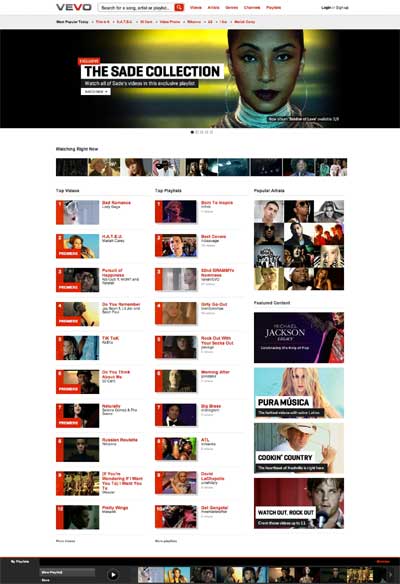 "The interest and enthusiasm our users have shown has been both gratifying and inspiring. We are also proud to deliver such strong traffic results straight out of the gate to our content and marketing partners, which solidify their early belief in the Vevo vision. We listen very closely to all of our partners and fans, and have been incorporating their feedback to continue to improve upon the Vevo experience."
Music videos from Beyonce, Justin Bieber, Drake, Lady Gaga, Jay Sean, Shakira, Britney Spears, Taylor Swift and Young Money are the most popular on Vevo this week.
The Top 5 U.S. Entertainment-Music networks on the web, according to comScore Media Metrix data, for December 2009 include: MySpace Music, AOL Music, Warner Music and MTV Networks Music.
Related Articles:
> Vevo Reaches Content Agreement With EMI
> Vevo Gets Official Launch Date
> AT&T Strikes Ad Deal With Vevo