I <3 uTorrent.  I can say that with confidence now that "<3" is officially in the OED.  Rejoice,  fellow uTorrent lovers, as they have just released version 3.0 beta, and it has a bunch of promising new features.
Over on the BitTorrent Blog, many of the new features are detailed.  First up is the most exciting new feature to me – streaming.  uTorrent users can now preview their downloads directly from the client.
This serves two functions – helping the extremely impatient to begin watching or listening before their download is complete and also allowing users a sample before they fully commit to an entire download.  Stable and consistent previewing is one of the things that endeared this writer to Limewire in the beginning (R.I.P).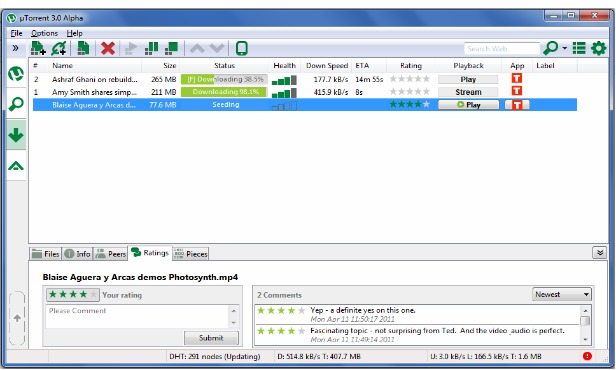 uTorrent 3.0 beta is also looking to please torrent pros and novices alike, as new features are targeted to users of various degrees of familiarity.
For the n00b:
At any time, you may now minimize parts of the µT interface for a simplified view of the client. Not only does this assist new users by focusing attention on the most important client features, but it also allows anyone to cut out distractions to focus on the business of finding, getting and playing content.
The new version also includes "getting started guides" that help new users with tips and tutorials.
For the most experienced users, uTorrent is now offering a remote feature that allows you to access the client from another computer or mobile device.  The feature is already integrated into uTorrent's Android app.  uTorrent 3.0 also adds portable mode which lets you run the client via USB.
The new "Sending" feature also sounds neat:
Easily send large files – for example home movies, large videos taken with your cell, and photos – to your friends directly from µTorrent. Select any file on your computer, drag it into the µTorrent "Drag files to send" box and µTorrent will create a Web link. Enter a friend's email address or post the link to social media. Recipients can easily download the torrent, or if they don't have µTorrent, download an app bundled with the file. Simple!
Finally, version 3.0 beta adds a ratings and commenting function to the client.  Apparently this was one of the top requests from users.  Don't get me wrong, comments and ratings can be useful – but I'm wary of comments and ratings when it comes to torrents.  Hopefully this feature doesn't get too spammy or doesn't annoy users with too many "Ughh…I cant get this to work..HELP" comments.

Happy Sharing!