The global PC market saw double-digit growth in the fourth quarter, led by strong U.S. holiday sales of low-cost netbooks, according to the latest report by IDC.
The U.S. PC market reached a new record of nearly 20.7 million units shipped in the fourth quarter of 2009 (4Q09), resulting in year-on-year growth of 24 percent. Other regions also experienced solid growth, particularly emerging markets in Asia/Pacific and Latin America, leading the global market to 15.2 percent year-on-year growth for the quarter. According to IDC, this marked the first quarter of double-digit volume growth since 3Q08.
Along with continuing price cuts throughout the year, other factors were in play in the fourth quarter. Following a number of improving economic indicators, which began in 3Q09, pent-up demand led buyers to focus on a variety of value-oriented notebooks that dominated the landscape in the holiday season.
"The U.S. market exploded in the fourth quarter, driven by a series of factors contributing to the unexpected 24% year-on-year growth. First is the rubber-band effect and recovery from the year-ago quarter, which suffered from buyer contraction when the economic crisis was confirmed," said David Daoud, research manager, IDC U.S. Quarterly PC Tracker.
"The vendors responded with new low price points to stimulate demand and face competition. In this context, low-cost notebooks and mininotebooks were the biggest contributors to the successful fourth quarter. Once again, the consumer market overcame the weak commercial sector to save the quarter."
When it came to vendors, HP had strong market performance in all regions except Europe, Middle East and Africa (EMEA), with solid shipments in the U.S. from holiday retail sales. It also gained double-digit growth in the emerging markets of Asia/Pacific and Latin America.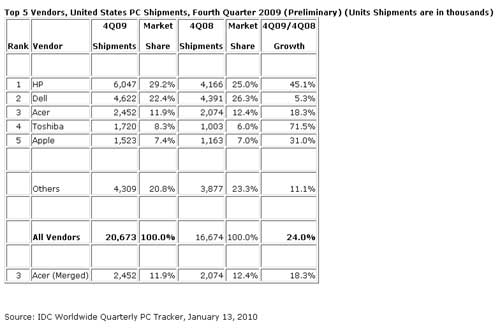 Dell moved back into positive territory after four quarters of yearly declines. The company managed overall growth of 5 percent and gains of 24 percent in Asia/Pacific (excluding Japan).
"The market has weathered a storm which looks to be behind us," says Jay Chou, research analyst, Worldwide Quarterly PC Tracker.
"But salvaging decreasing margins will soon become even more pertinent as one considers the long-term effects of holding market share at the cost of profitability. Without an effective strategy to convey a clear usage model and feature set tied to each segment, the market will inevitably continue down the slippery slope of 'good-enough' computing sold to the lowest bidder."
Related Articles:
> PC Market To See Positive Growth In Q4

> PC Shipments To See Record Decline