I've been writing about how Social Media links are impacting Search Engine results lately. It's really an area we have consciously tried to stay ahead on because we think that Social Media link sharing is going to have an even greater impact on search in the future.
See: "Twitter and Facebook Links Worthless for SEO? I Wouldn't Be Too Sure About That" and "The Role of Social Influence on SEO Ranking Signals".
The gist of both posts being that Social Media shared links matter, but the Influence of the link author and the influence of the people that share the link have a great bearing on the actual ranking signals that could get a page a little extra "juice" in the search engine rankings. The second post about Social Influence gets into the details of how that might work.
But this post is about where the search engines are finding those those shared links, specifically the links shared on Twitter. Some people think that since search engines are somehow counting Twitter links that their actual Twitter profile page is the place where that magic synergy takes place.
With that kind of "logic", the PageRank of the actual Twitter profile page would also be a major contributing factor in determining the value of those links. Under that same "logic" one might think that influence factors like the number of Twitter followers, number of times listed on Twitter and the number of times Re-Tweeted could influence a Profile Page's PageRank or that simply building up the PageRank of your profile page could increase the power of your shared links as ranking signals. All of these assumptions are NOT TRUE.
The reality is:
Links on a Twitter Profile Page

are still no-follow links

and do not pass on PageRank
There is no correlation between Twitter metrics like, Follower Counts, List Counts, Re-tweets and PageRank
PageRank of a Twitter Profile page is really only a determining factor in getting that Twitter Profile found in search results for searches on profile names like @Jstatad.
Shortened links on Twitter profiles are just anchor text links of nonsense code – try looking for even a portion on a shortened URL in search – because the no-follow attribute is keeping them from being indexed
The real time nature of the links shared on Twitter is important – search engines don't have time to go indexing a profile page for links – they need that shared link data as soon as it is shared and the indexing schedule of a Twitter profile page is likely infrequent at best
The links are actually being indexed in the "Data Fire Hose" that Google is reportedly paying Twitter $15 Million for and MSN is reportedly paying Twitter $10 million dollars for
Why I'm Right
Well Danny Sullivan said for in the first story confirming that Search Engines were counting these links:
So, while Bing and Google do have a human signal they can assess from Twitter, supposedly they have no link signal that they can also count. But as it turns out, both of them get what's called the "firehose" of data from Twitter. This is a constant stream of what people are tweeting.
In that firehose, links do not carry nofollow attributes — so there is some link credit that counts, in some cases.
Google's Matt Cutts also specifically said that Page Rank on Twitter pages doesn't matter (albeit this was said well before the Search Engines admitted they were using Tweets as a ranking signal) because those links tend to be No-Followed:
There are big disparities between Twitter metrics and PageRank – because they are mutually exclusive of each other
Stephen Colbert had the most Retweeted Tweet of 2010, has well over 2,000,000 Twitter followers, is on over 33,000 Twitter lists and has a PageRank of 0 on his profile page. Lady Gaga is the most followed person on Twitter and has a Page Rank on her profile page of 7, while USAgov has 7.9 Million fewer followers than Gaga and a Page Rank of 9 on it's profile page.
Real Anchor Text is Coming Out of the Fire Hose
As we reported in November, Google expands shortened URLs in the Fire Hose for Real Time Search and uses the Title Tag of the Page shared as the anchor text. This gives the search engine some hopefully keyword rich anchor text to possibly use as a ranking factor as opposed to the gobbledy-gook of a shortened URL.
These are the same Tweet. Google Real Time Expands the Short URL to the Title Tag as illustrated below.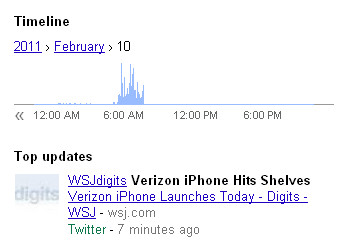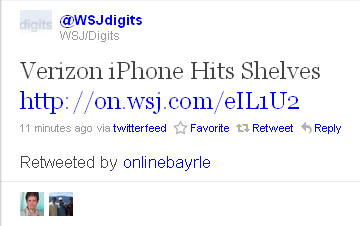 Twitter Profile Page Rank is Fun – But it Doesn't Mean Anything
I actually had some fun comparing and contrasting celebrity Twitter Page Ranks, but all it really proved is that Twitter metrics aren't really correlated to it and as usual the best correlation to PageRank is the link counts found on Google's Link operator queries like Link:www.twitter.com/jstatad.