TV Guide has introduced its free TV Guide App for iPad, sponsored by Showtime and featuring social TV listings, entertainment news, and its fall TV preview coverage.
The TV Guide App for iPad features share buttons for Facebook and Twitter allowing users to share what TV shows they plan to watch via their social networks.
"Our iPad app makes it easier than ever for entertainment fans to share what they're watching – and when it's on – with their friends," said Christy Tanner, General Manager, TV Guide Digital.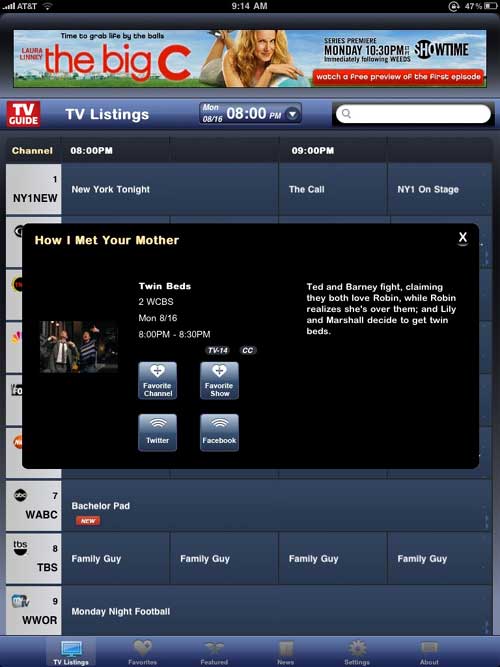 Showtime will be the first network to run a full-length episode on the TVGuide.com iPad app with their new show, "The Big C," starring Laura Linney. The full episode is featured within the fall preview section of the app, along with interviews and preview videos for new and returning shows.
The TV Guide app also will allow users to keep lists of their favorite TV channels and shows on their iPad. Users can browse listings by time to see what's on now or up to 14 days in advance, or can search by show name, cast member, episode title and episode or program description. The app also features breaking entertainment news, a day-by-day primetime schedule, photo galleries and original videos from TVGuide.com.