Travel review site TripAdvisor said today it has officially launched its mobile website.
The TripAdvisor mobile website is now available in 17 countries and 11 different languages. The beta version of the mobile site attracted more than one million unique monthly visitors.
On TripAdvisor's mobile site, users can find nearby restaurants, hotels, attractions and directions to them via smartphones with GPS capabilities. Users can also post reviews and opinions while traveling.
The mobile site is compatible with all major cell phones and smartphones with access to more than 30 million reviews of hotels, restaurants and attractions.
"Our mobile website offering underscores TripAdvisor's strategy to revolutionize how consumers get travel advice," said Steve Kaufer, founder and CEO of TripAdvisor.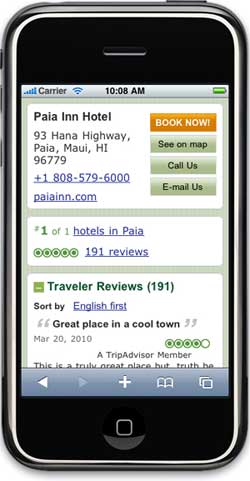 "We are continually investigating additional options for users to access our millions of reviews and opinions from fellow travelers."
TripAdvisor's mobile website is currently available in the U.S., U.K., Australia, Brazil, Canada, Denmark, France, Germany, Ireland, India, Italy, Mexico, Netherlands, Norway, Spain, Sweden and Turkey. The company says it plans to add other countries and languages soon.