Overall satisfaction among smartphone and traditional handset owners whose phones feature touch screens is significantly higher than owners that don't have touch screens, according to a new report from J.D. Power and Associates.
Among smartphone owners that have a touch screen, satisfaction averages 771 on a 1,000-point scale, nearly 40 points higher than among those whose smartphone features other input methods. Currently just over half of owners indicate their smartphone has a touch screen for navigation.
"Touch screens are ideal for those using their phone for entertainment, as the displays are generally larger and provide a richer viewing experience," said Kirk Parsons, senior director of wireless services at J.D. Power and Associates.
"It is critical, however, that manufacturers meet expectations with regard to providing adequate battery life, as these large displays can drain batteries very quickly. In addition, for customers to have a truly rewarding experience, wireless carriers must continue to provide problem-free, high-speed downloads, as customers rely on them to deliver content quickly and on the go."
Apple ranks highest in customer satisfaction among makers of smartphones with a score of 810, and performs well in ease of operation, operating system, features and physical design. RIM BlackBerry (741) trails Apple in the rankings.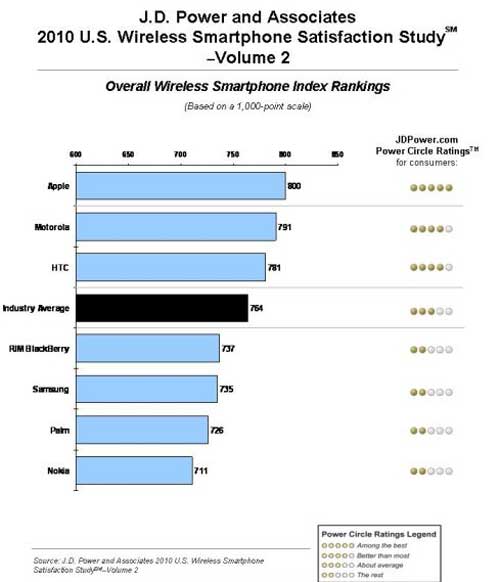 The study found both smartphone and traditional handset owners are increasingly using their devices for entertainment and sharing media with others. Among traditional handset owners, 25 percent regularly send and receive multimedia and picture messages, an increase of 25 percent from six months ago.
Smartphone users are nearly twice as likely to share multimedia messages. In addition, 17 percent of smartphone owners with touch screens indicate the frequently download and watch video content on their device.