Developers with any amount of ability when it comes to creating Android apps may want to start thinking about how to bring PayPal into the equation. Today, the third PayPal X Developer Challenge kicked off, and PayPal's established some significant cash prizes for the top three participants.
To cut to the chase: the first place prize is $25,000, second place is $15,000, and third place is $10,000. Also, this is a high-profile contest, so all three winners stand to receive some attention and publicity in addition to the marketing and PR support PayPal's promised.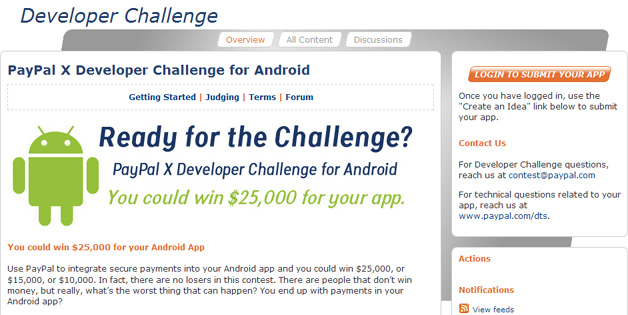 Now for some more information about the competition itself. Naveed Anwar, the senior director of PayPal's Developer Network, wrote on the PayPal Blog, "We're looking for developers across the globe to build the most innovative Android mobile apps that leverage PayPal's technologies (Mobile Payments Library, Mobile Express Checkout) for mobile payments."
Otherwise, restrictions are almost nonexistent; would-be participants just need to keep their apps legal, clean, and user agreement-abiding. Plus mind the cut-off dates.
The first deadline to be aware of will hit on May 14th, when all submissions must be in. Next, June 3rd is the deadline for making changes, and June 7th is when applications will go live. Finally, winners will be announced on June 29th.
Depending on what comes out of this contest, it could help make both PayPal and Android more popular. Retailers and regular eBay users could benefit, too, if people start using their smartphones to shop more.
We'll be sure to keep an eye on the competition and report any interesting achievements.