Every so often things happens in such a perfect, complementary fashion that it shakes the arguments against predetermination to the core.  Alas, where one once bright star is slowly flickering out another is bursting with new light.  And one might think that a little piece of the old has somehow found its way into the new.
In this case, the mechanical typewriter may have begun its walk down the green mile while the electronic autograph looks like it is set to become the norm for e-readers and tablets everywhere.
Goodbye, Typewriter?
The Business Standard reports that the world's last typewriter manufacturer has ceased production of typewriters, and only has 500 left for sale.
Godrej & Boyce was a symbol for the new  India in the 1950s.  When they opened their factories, India's Prime Minister Jawaharlal Nehru said that their typewriters were a "symbol of independent and industrialized India."  Now it has phased out the production of these symbols of communication and progress:
"We stopped production in 2009 and were the last company in the world to manufacture office typewriters. Currently, the company has only 500 machines left. The machines are of Godrej Prima, the last typewriter brand from our company, and will be sold at a maximum retail price of Rs 12,000," said Milind Dukle, general manager-operations, Godrej & Boyce Manufacturing Company.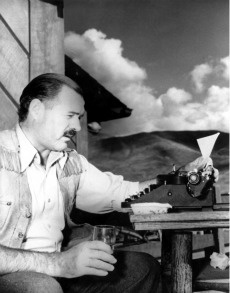 Is this truly the death of the typewriter, a device that has so much romanticism stuffed into it?  In America, we think Hemingway, sweaty and focused, cigarette dangling from his lips – pecking out genius, one keystroke at a time.  We think Edward Murrow just before air time, working up his final script on Joe McCarthy.  Chink Chink…pull…Ding!
Not so fast, say some.  They say the typewriter is alive and well, just slightly less visible.  From Minyanville:
However, as ubiquitous as iPads (and, to a lesser extent, Xooms and PlayBooks) may be, the typewriter is "far from dead," Ed Michael, General Manager of Sales at Moonachie, NJ-based Swintec, tells us. And he adds Godrei and Boyce is far from the last company in the world making the machines.
"We have manufacturers making typewriters for us in China, Japan, Indonesia," Michael says.
Swintec, in fact, mostly makes typewriters for prisons.  They have contracts with facilities in 43 states.  Many of the typewriters they make are clear to prevent the smuggling of contraband.
So are typewriters dead? Or are they alive and well?  It looks like the answer depends on what you think of when you think "typewriter."
If you browse the line of Swintec typewriters on their website, you'll find that all of their products are electronic typewriters.  As antique enthusiasts would tell you, there is a big difference between electronic typewriters and mechanical typewriters.  And in the case of Godrej & Boyce, any mechanical typewriter maker that ceases production is a step in the direction to losing this part of history.
So, I guess the answer to the question "Are typewriters dead?" is no, but possibly dying.  But don't fret hipsters, you will still be able to find plenty of used typewriters to put in your empty, hardwood-floored room.  Silver threads of sunlight will still pierce smoke-stained curtains to illuminate your Kerouac-ian fantasy.
Out with the old, in with the new!
It appears as though the Nook Color will be integrating software that will allow authors to digitally sign ebooks.
The software is called Autography, and will replace the pen with the stylus.  The first demonstration of the new technology is set for May 2nd.  From Goodereader:
Barnes and Noble will be offering select signings at their various book store locations to get authors to sign digital copies, as well as print. The first author to usher in this new policy is Sandra Boynton. "The Going to Bed Book" is scheduled for Barnes & Noble's Upper East Side store in New York City (7 p.m. on Monday, May 2).
Yesterday, Nook Color announced a new upgrade that made the e-reader more tablet-like.  The new updates added many new apps, an email client and the latest Android Froyo OS to the e-reader.
Check out a video demo of Autography:
I may be accused of being a sentimentalist, but sometimes the passing of a torch is simply beautiful.