Millennial Media has released its monthly Mobile Mix report, focusing specifically on various mobile devices and OS's, and listing the Top 20 Mobile Phones in the U.S. "Mobile Mix measures device, OS, carrier, and now application trending data on our network. New to Mobile Mix this month, is a snapshot of the most active mobile app channels; and a quick view of the break-out of multi-platform app versus single platform app developers," Mack McKelvey, SVP of Marketing at Millennial Media tells WebProNews.
"On the single-platform size, the largest app channel growth we've seen so far this year is in the entertainment and sports channels, with 648% and 279% growth respectively, since January 2010," McKelvey added. "Social networking and gaming have also seen strong growth and took the top two spots in the channel ranking, by revenue, this month."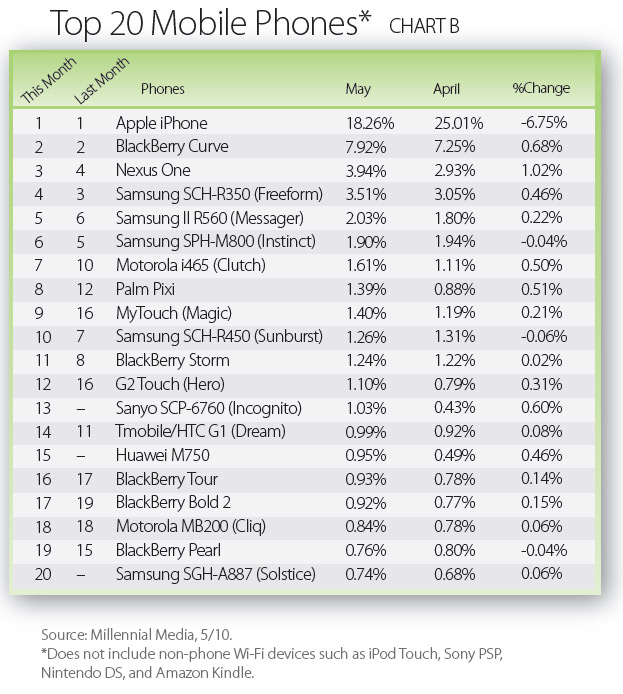 Some other highlights from the report include:
– Android requests grew 15% month-over-month, and have now grown 338% since January.
– The Apple OS remained the leading operating system on the Millennial network, but it had a month-over-month decrease of nearly 14%
– iPad requests grew 160% month-over-month
– For individual manufacturers, HTC received the largest share increase month-over month for the second consecutive month
– The Games category topped the list of top mobile app channels by revenue
There is plenty more device and carrier data about the top manufacturers, the top mobile phones, device input mix, carrier mix, OS mix, developer trends, and more. Find it here.