I started off aiming to write an article about all of the things Google has done over the course of the year, and quickly realized that this would be one massive article, even if I only briefly mentioned everything. So I have decided to split the article up into quarters, so you don't have to take everything in all at once. Check back for each subsequent article.
I have not included every single Google-related story of the year. That would require a book (and a rather large one I believe) rather than an article. I've omitted most of the legal stories and rumors (both of which there have been many in 2010), and tried to stick mostly with actual releases, features, acquisitions, and happenings. Even still, I'm sure there are plenty of things that didn't find their way into the article(s). Please feel free to add more in the comments. All of that said, it's been a huge year for Google, even just looking at the items included.
January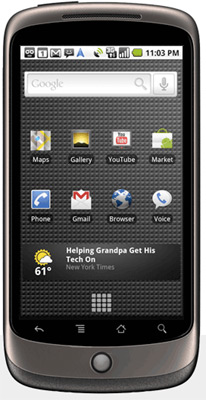 Google kicked off the year unveiling the Nexus One (and its ill-fated store), and providing books to the makers of the Alex eReader device. The company shared a proposal for a white spaces database, added chat to Translator Kit, launched the "Near me Now" feature for iPhone and Android, showing nearby businesses by category based on the user's location, and tailored mobile search suggestions to location. Then it was discovered that Google had applied for approval from the Federal Energy Regulatory Commission for the right to purchase and monetize energy.
Google Fast Flip became available at the bottom of Google News, "Google" was declared the word of the decade, and Google Friend Connect became available for the Drupal and Joomla content management systems (this could be significant to Google's social strategy). Google was granted a patent for "Claiming Real Estate in Panoramic or 3D Mapping Environments for Advertising" leading to speculation that the company could sell ads on billboard imagery throughout Google Maps Street View. Google Docs began offering the ability to upload files of any type, with a total storage limit of 1GB.
Google was targeted in an attack that led to the whole situation with Google and China that has dominated many headlines throughout the year. Google announced on its blog that it would no longer censor search results on Google.cn. This led to a great deal of back and forth between Google and China.
Google changed its policy on AdWords Display URLs, launched a relief site to help Haiti, following the devastating earthquake, and began letting businesses update Place Pages instantly. Then they let users of Gmail and Picasa use their storage space for any type of file, and revealed factors used for ranking tweets. The company, along with Verizon, submitted an FCC filing talking about "open Internet goals".
The company narrowed down mobile ad targeting and started digging into past Gmail conversations for ad targeting. YouTube announced it would start renting movies. Google launched "answer highlighting" in search results, cranked up the number of sitemaps allowed, launched cost-per-call tracking for TV ads, introduced personalized suggestions On Google Maps, announced Unicode progress, gave mobile users a link to popular images, introduced click-to-call numbers in ads, made Apps Script more widely available, and added a feature to Google Reader for creating a feed for any site. Finally, Google's Social Search became more than just an experiment.
February
In February, Google Voice simplified SMS to multiple recipients, Google offered $5.7 million in research funding, and started luring more Google account users with a Google News feature. Gmail search became more like Google search, and Google launched 2 new mobile features for maps, as well as Log Search for the cloud. The company began letting AdSense publishers donate earnings to Haiti relief, began suggesting competitors for local business searches, and ran its first Super Bowl commercial.
Then Google launched Google Buzz, began hosting AP content after a seven-week-long hiatus, and launched the Speed Dashboard for YouTube. Then the company acquired Aardvark, introduced Maps Labs, started using MySpace updates in realtime search, gave $2 Million to the Wikimedia Foundation, and open sourced its "Living Stories" experiment.
Google acquired popular iPhone app reMail, and discontinued it in Apple's App Store. Then they launched Google Shopper on Android. Google completed its acquisition of On2 Technologies (announced the previous summer), upgraded its ad-serving product for publishers, brought Google Earth to Android, integrated Panoramio with Picasa, improved voice/video performance for Google Talk, started letting users find search results based on location, and bought Picnik.
Also, six features graduated from Gmail Labs, and Google started including Facebook Pages in realtime results.
March
In March, Topeka, Kansas adopted Google as its city name. Google improved click-to-call ads with phone extensions. Google Gesture Search was released to let Android users draw searches. Android got its first Microsoft app. YouTube changed its default size on embeds, and Google open sourced reMail. Google acquired DocVerse, personalized search results more with a new star feature, and launched Public Data Explorer in Google Labs. Google Webmaster Tools got new labs features, Google Maps took steps to improve marker accuracy, and Google launched the Google Apps Marketplace.
Google Maps got biking directions, YouTube got new mobile ads, and Google scored a major Italian book deal. Google product search for mobile started showing when items were in stock, and Google gave Google Wave a push with an extensions gallery. Google launched a tool to help small organizations advertise on YouTube.
Facebook unseated Google as the most-visited site on the web. Google launched Blogger Template Designer and a Buzz widget for Android. The company introduced uncensored results in China and tested hotel pricing in Maps. AdMob launched tools for cross-platform mobile development, and Google introduced AdWords Search Funnels reports and alerted users of suspicious Gmail log-in activity. Google also rolled out a remarketing AdWords feature, added a file transfer option to iGoogle, and gave an AdWords for Mobile interface to advertisers. Google took the limit off AdSense category filtering, and launched "Ad Innovations". Gmail opened up to apps with OAuth support, and YouTube made changes to video pages.

Read the rest:
What is your favorite thing that Google did in 2010? Least favorite? Comment here.