YouTube has just launched a "Speed Dashboard", which makes speed information about videos available to users. YouTube's Chris Dale tells us it "offers granular insight into what your YouTube video speed looks like."
"We think it's pretty cool and all part of our goal to make the web a faster place," he adds.
Factors which affect your YouTube video speed include the speed of your Internet connection, the Internet Service Provider (ISP) you're using, and the distance to the video servers. Users can compare their video speed to that of others in different regions and using different ISPs.
"We may also list the YouTube speeds for users in your neighborhood but with different ISPs," says YouTube. "The speed numbers are calculated by measuring the speed at which YouTube video is received by the browser. This is then averaged over the previous 30 days provided you've used the same browser during this time period."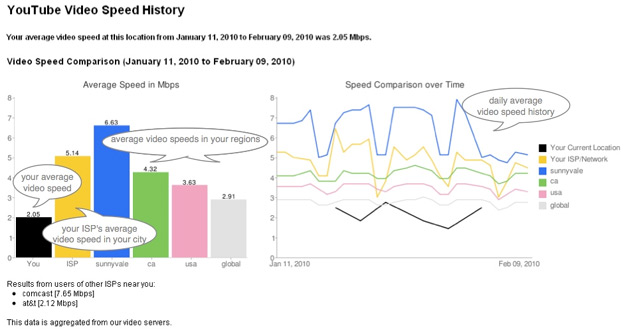 Speed is something that Google as a whole has placed a great deal on emphasis over the last year or so. For one, they're talking about making page speed one of the factors they use in ranking search results. The company has also provided webmasters with numerous tools to help them increase their own speeds. More about Google's initiative for making the web master can be found here.
The YouTube dashboard can be viewed by going to youtube.com/my_speed.