Retailer Target has introduced a new online weekly ad called "My TargetWeekly" that offers users deals.
My TargetWeekly allows users to create customized views and deal alerts so they know when items they are looking for are on sale. Users can also view coupons, see top 10 deals, share via Facebook and Twitter and create their own customized mobile shopping lists to use in-store or online.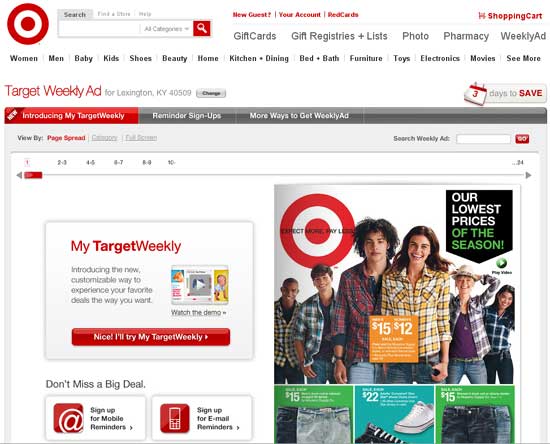 "We are excited to provide our guests with yet another innovation to simplify their lives and improve their shopping experience," said Steve Eastman, President, Target.com.
"As the only retailer offering this technology, we are proud to give our guests more ways to make the most of their dollar, which helps us deliver on our 'Expect More. Pay Less.' brand promise."
My TargetWeekly is also on the Target Facebook fan page and users can share products and shopping experiences to create recommendations. The more users "love" a product, the better the recommendation engine becomes.