Mark Burnett, an executive television producer behind shows like Survivor, The Apprentice, The Shark Tank, Are You Smarter Than a 5th Grader, and many others (he was even behind the MTV Movie Awards where Bruno landed on Eminem), took the time today here at the BlogWorld & New Media Expo in Vegas to draw some parallels between his experiences in television and searching for success in new media.
Frankly, he almost painted something of a doomy picture for those aspiring to find such success, discussing how truly hard it is to succeed. Success is unpredictable, but "the unpredictable nature is the creative driver" he said. He says shows like Survivor or American Idol are so successful in part to their unpredictability. You don't know who's going to get eliminated from week to week, compared to a show like CSI or House, where you generally know that the main characters will probably not die.
Interestingly enough, it's that same unpredictability that helps shows like Survivor and American Idol thrive in the social media universe. People get excited about who will win and who will lose, and they frantically discuss every week, all week, before and after and during the show.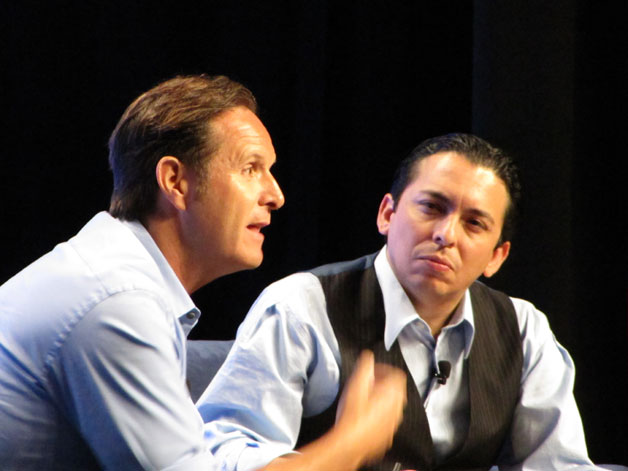 Burnett says you can never be certain who you should marry, whether or not you should start a business, or whether or not you should change jobs, but most people that find success start out not knowing if their ideas are going to work. Basically, you've got to be willing to jump in and take a risk. Of course not all of your social media endeavors will be all that risky, but I think the main message here is that you shouldn't be too afraid to take a chance.
That said, Burnett does not recommend making drastic changes to successful formulas. "You have to be careful," he says. "What kind of idiot changes a very successful format?"
Burnett is a self-confessed "mental midget" when it comes to social media, but he says, "I've become very aware of how important it is."
"The social, electronic media world makes me feel stupid," he later added. "…I'm just trying to keep up."
Now he's working on a TLC show about Sarah Palin's adventures in Alaska, which they let Steve Garfield announce via his YouTube and Twitter accounts to watch the power of social media.