Online video platform Brightcove said today it is teaming with the Sundance Institute to support its new live and on-demand video initiatives for the 2011 Sundance Film Festival, which runs from January 20 – 30 in Park City, Utah.
With Brightcove, Sundance has expanded its online video offerings this year to include live coverage of major events and screenings at the Festival, as well as a number of new on-demand content featuring interviews with artists and filmmakers, daily video highlights, and roundtable discussions. Brightcove has been the official online video provider for the Festival since 2008.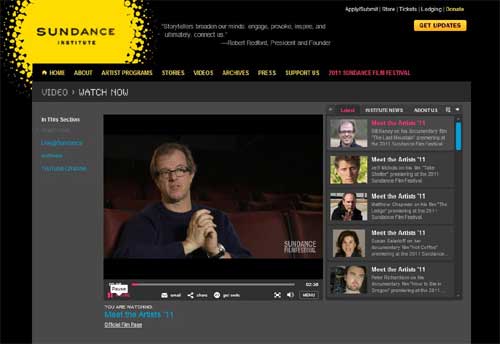 "The mission of Sundance Institute is to discover and foster independent artists and to connect those artists with audiences, and online video continues to play an important role in helping drive awareness and interest in the Festival each year," said Joseph Beyer, Director, Digital Initiatives at the Institute.
"Working with Brightcove has enabled us to continually introduce innovative new video offerings that fans can access throughout the world. We are looking forward to taking advantage of Brightcove's live streaming capabilities this year as well as expanding the reach of our video content to new platforms and devices."