StumbleUpon has launched a new advertising system, which the company says helps cost-effectively deliver advertiser content to targeted audiences, while increasing the opportunity for content to go viral.
StumbleUpon finds and recommends ad content it deems relevant to targeted audiences' interested based on demographic and topic areas. StumbleUpon users by simple nature of the site choose the content topics of interest to them, and are delivered random content based on this). This makes for an interesting way of delivering ads.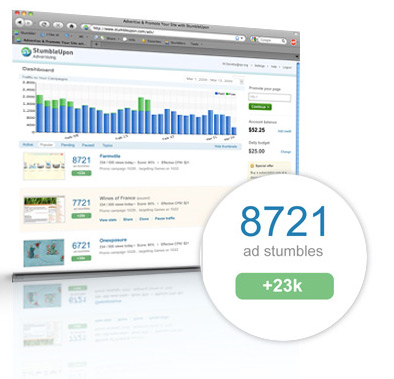 "With StumbleUpon Advertising, we're solving the challenge of how advertisers can get more content that is relevant and impactful in front of their targeted audiences," says StumbleUpon CEO and Founder Garrett Camp. "We are dedicated to providing the tools that help advertisers identify and reach their audiences, measure campaigns effectively and gain real-time user feedback."
"After testing the StumbleUpon Advertising system for eight months, we know it's an extremely cost-effective way to drive qualified traffic and let the content speak for itself," said Jason Clement, Director of Findability at Wieden + Kennedy. "Since StumbleUpon Advertising targets content to users based on their personal interests, we can be confident that our content is reaching the most receptive audience possible. And when an audience enjoys our content, the reward is a healthy amount of free, organic traffic."
"StumbleUpon Advertising makes it easy and cost-effective to deliver the right content to a new audience of our target users," said Ben Tider, Assistant Director, Audience Development at Time Inc. Lifestyle Digital Group. "With streamlined campaign set-up and management, we can better optimize ads and recommend content based on the individual user. Because readers can self-identify the types of content we show them, they are more engaged and likely to share it with friends."
"StumbleUpon Advertising enables brand advertisers to serve up compelling content while users are searching or 'stumbling' around the Web," said Josh Spear, Founding Partner of Undercurrent. "With StumbleUpon Ads, an advertiser's content is not an interruption, but rather a fully integrated experience that affords an opportunity for additional exposure when audiences like or respond well to the content. It is comparable to a banner that becomes more cost efficient based on positive viewer feedback. The new user interface also greatly enhances the service by delivering advanced analytics and more detailed campaign management tools."
StumbleUpon claims to generate nearly 600 million recommendations per month for its community of almost 11 million members.
Related: About a year ago, we interviewed StumbleUpon's VP of Business Development about advertising on the site.