Google Street View has taken in a couple more countries. Today, coverage of Denmark and Sweden was introduced, and there are new photos of many especially interesting places in England, Northern Ireland, Wales, and other areas, as well.
The pics of Denmark and Sweden are more or less standard Street View fare – high-resolution shots (with license plates and people's faces blurred) captured throughout the countries by some cars driving along main roads. You can see things like Hans Christian Anderson's home and Copenhagen Town Hall (below) as a result.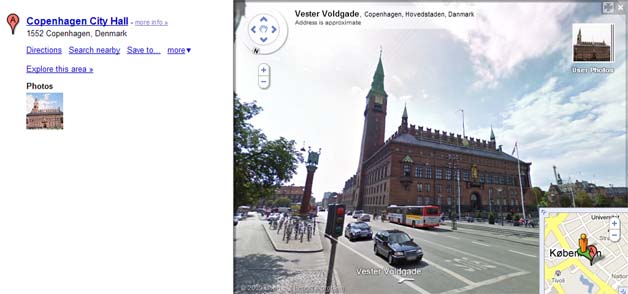 The photos documenting the other countries are more unique. As Google London's Laura Scott explained on the LatLong Blog, they were taken from Street View Trikes, and "[t]hanks to the National Trust – a charity with a love for preserving historic places and spaces across England, Wales and Northern Ireland – our Trike riders were given access to a whole host of beautiful places . . . . [T]hey pedalled around a collection of the National Trust's iconic castles, country houses and outstanding landscapes . . ."
Elsewhere in the world, the Trikes toured the San Diego Zoo, Penn State, Busch Gardens, Sesame Place, Water Country USA, and parts of Italy and Taiwan.
This should be a fun update for Street View fans. Let's just hope Google doesn't get hit by any more legal challenges as a result.
Related Articles:
> Could Billboard Ads In Google Maps Street View Become A Possibility?
> MapQuest Gets Its Own Street View