Today, StartUp Britain was launched, an initiative offering support and resources for businesses just starting out or looking to grow.  The initiative has the backing of many companies known intimately by those of us on this side of the pond like Google, Blackberry and HP.
As you may remember, Startup America was launched in January as part of President Obama's economic growth initiative.  It was aided by investments from Intel, IBM, HP and Facebook but also backed by some government funding.  The difference with StartUp Britain is although it has the complete backing of the British government, it is not being funded by it.  As StartUp Britain's new site explains, this venture is created by entrepreneurs for entrepreneurs:
StartUp Britain is a new campaign by entrepreneurs for entrepreneurs, launched on 28th March 2011. Designed to celebrate, inspire and accelerate enterprise in the UK, it has the full backing of the Prime Minister, the Chancellor and HM Government.

This is a response from the private sector to the Government's call for an 'enterprise-led' recovery. We believe that many of the important functions and services necessary to foster and champion new enterprise can be open-sourced, instead of provided by government directly.  We aim to do this by creating a living market-place online for the wide range of enterprise support that is already available.
As a private sector organisation we aim to shoulder some of this responsibility for enterprise promotion with the government, re-modelling existing cost centres, and reducing the cost to the taxpayer.
Along with links to resources for businesses like "how to acquire funding," "setting up you website" and "designing a logo" the website details deals being offered by established businesses to help those trying to get off the ground.  Google has offered a limited amount of free AdWords services, HP has offered 10% off online purchases and Blackberry has offered free copies of their start-up guide ebook.  Gloople, Pay Pal and Regus are just three more of the currently 62 companies backing the initiative.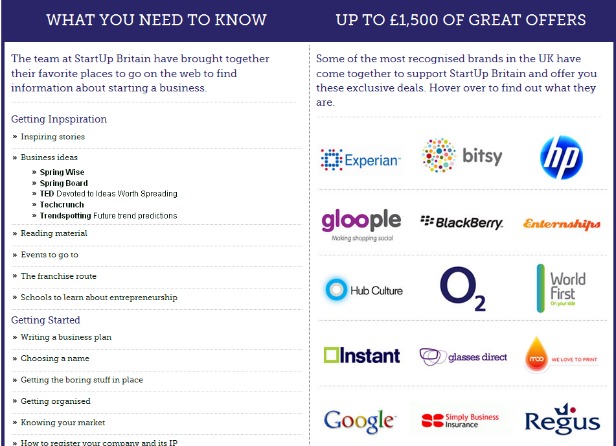 The initiative has only started with two real aids – the lists of resources and the offers from corporate supporters.  But they look to add new features such as a "Mentor Marketplace" and a "Masterclass Platform."
Although this is obviously a good way to advertise for the 62 corporate sponsors, it also looks like it could be a good place to start – maybe even more so for burgeoning internet businesses than traditional brick and mortar businesses.  Does this sound like a better way to go about promoting growth than Startup America?  Let us know what you think.