Staples said today it has launched a website focused on tablets to help people research and compare devices that fit their needs.
Staples.com/tablets will offer side-by-side feature and price comparisons, photos, videos and business apps.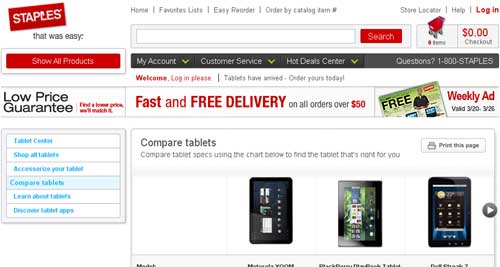 Key features of the site include:
*Videos such as "Why Buy A Tablet?" and "Tablet Specs to Consider"
*Business tools and benefits of new tablets on the market
*Recommendations on tablet protection and storage accessories
*Key features of each tablet and a glossary of terms
Staples said tablets will be available in all of its retail locations and online starting this spring. Initially Staples will offer Motorola XOOM, BlackBerry PlayBook and Dell Streak. It will also offer new tablets from Acer, Dell, HP, Toshiba over the next few months.
"Tablets are the hottest new technology and Staples continues to be at the forefront with a wide assortment of tablets and EasyTech and Staples Advantage associates to help consumers and businesses get the most from their tablet purchase," said Peter Scala, Senior Vice President and General Merchandise Manager Office Technology, Staples.
"The majority of us turn to the internet to learn and understand new technologies. The Staples tablet microsites provide information to help customers make informed decisions and, once they decide on the product best for them, the ability to purchase with fast and free delivery."