The keynote at BlogWorld this morning was an interesting one, looking at how new media has changed the landscape of politics. Mark Penn, former Chief Messaging Architect for President Clinton and Karen Hughes, former Chief Messaging Architect for President Bush discussed the power blogs and social media have had on shifting elections and public perception.
Penn discussed a surge in independence and how we are no longer living in a "red and blue" country. We're seeing the parties themselves dividing and new movements emerging among both Democrats and Republicans. "There's a wave of discontent," says Penn.
To say the least.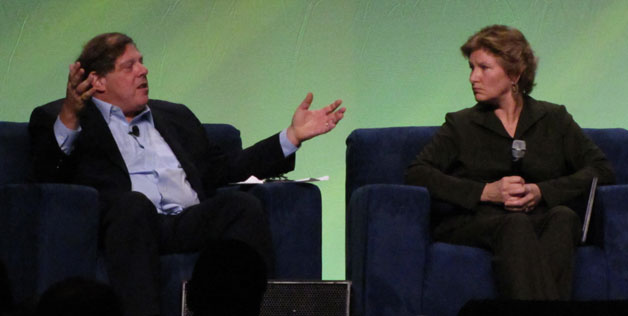 Blogging and social media have given the people a voice. As more and more people have turned to new media, more have been able to consume a wider range of content and opinions, respond to it (in a way that others can also see and possibly benefit from), and spread it. Because of these things, there is more power in the hands of the people than ever. Anyone can go online and say anything they want and be heard.
That's a very powerful thing, but as Hughes points out, it's not without its negatives – primarily, the incredibly quick spreading of false information. "Speed is essential," she says, adding that you have to jump in because things get reported and repeated.
On the flip side, however, new media has enabled instant response. It's essentially reputation management. Brands face this all the time. When it comes to politics, there will always be plenty more people to stand up for the brand (or bash it). But again, that's the voice of the people. News consumers have more viewpoints to look at to help them form their own.
Other concerns Hughes voices include anonymity and the dehumanization of people via the technology.
One interesting comment from the audience: social media is just enabling the spread of propaganda on both sides. What do you think?
Another interesting audience comment: "You're not pundits anymore. We get our news from sources we trust."