Smartphone owners are more comfortable making purchases from their handsets, but poor mobile site functionality is still a frustration for many, according to a new survey by Compete.
While m-commerce is set for strong growth in 2010, consumers are still more likely to abandon mobile purchasing on sites that are not optimized for the on-the-go experience, similar to shopping cart abandonment in the early days of ecommerce.
Compete's Q3 Smartphone Intelligence survey found that eight percent of smartphone owners that tried to purchase a product on their device were unable to do so. Nearly half (45%) of those that abandoned the process said that they did so because the site would not load, and an additional 38 percent left the site because it was not developed specifically for smartphone users.
"Retailers are beginning to recognize that smartphone use is no longer limited to an exclusive group of tech savvy consumers," said Danielle Nohe, director of consumer technologies for Compete.
"As these devices proliferate – and people grow more comfortable transacting, site owners must redesign around mobile shopping ease-of-use. We see this as a win for both consumers and businesses."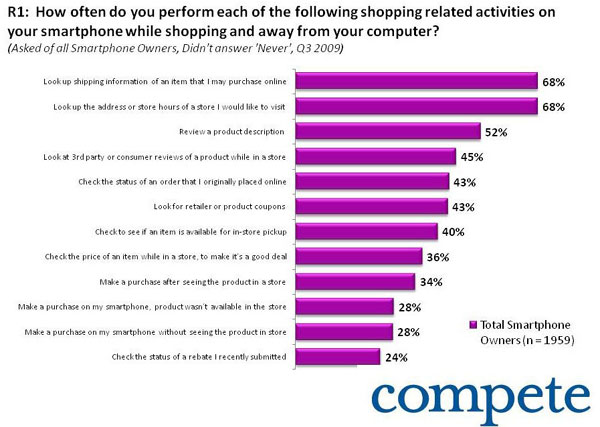 Key findings from the survey include:

37 percent of smartphone owners have purchased something non-mobile with their handset in the past 6 months.
19 percent of total smartphone owners have purchased music from their device, 14 percent have purchased books, DVDs, or video games and 12 percent have purchased movie tickets.
The most popular mobile shopping-related activities are still research related – 41 percent of iPhone users and 43 percent of Android users are most likely to check sale prices at alternative locations from their mobile phones while they are shopping.
The second most likely activity is accessing consumer reviews, with 39 percent of iPhone owners and 31 percent of Android owners investigating reviews from their handset before they purchase.
Related Articles:
>Google Launches Custom Search For Smartphones

>Buy A Blackberry From Walmart Get A $100 Gift Card
>Apple And LG Rank High In Consumer Satisfaction