Skype announced that it is now available on a wide range of Android phones (it has been available on some models from Verizon). Users of supported devices can simply go to skype.com/m on their phone to download it or find it in the Android Market.
Unfortunately, not all Android users will be able to use Skype to its fullest. "Skype has been tested on HTC and Motorola devices with Android OS 2.1 and above," says Skype's Peter Parkes. "It may work on other Android phones, but we can't guarantee full functionality or compatibility. We're aware of some problems with the Samsung Galaxy S, and we're looking to address these in the future."
The app allows users to call other Skype users for free, as well as send and receive IMs (also for free). This can be done from one person to another or with a group of people. For other calls, the rates look like this: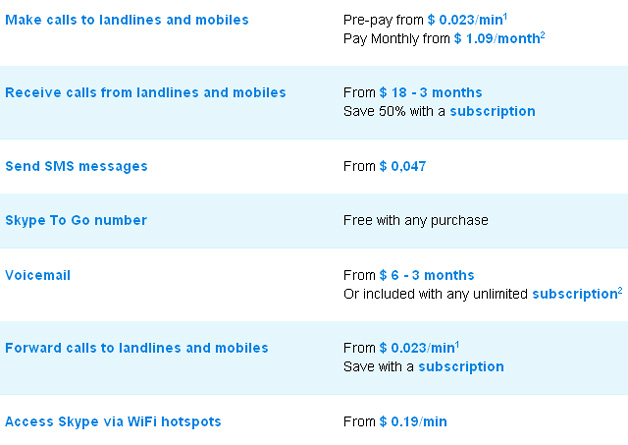 Android users who use Skype on their computers will see their full contact lists when they sign in to Skype on their phones. It's worth noting that while Skype is always free in WiFi zones, you may get charged by your operator if you don't have an unlimited data plan.
In the United States, users can make calls only over WiFi, and Skype's not available in the Chinese or Japanese Android Markets.
In other Skype news, the company is getting a new CEO. Tony Bates, who comes from Cisco, will start at Skype later this month.