Privacy experts and random users are no longer the only ones complaining about how Facebook's latest moves have affected privacy. Senator Charles Schumer made an objection of his own yesterday, and in fact asked the Federal Trade Commission to provide guidelines concerning the use of private info.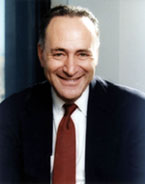 The good news for Facebook is that Schumer hasn't declared war on social networks. At times, his letter to the FTC was quite complimentary; Kemberly Richardson reported that he wrote, "These sites have helped reconnect old friends, allow families from far away to stay in touch, and created new friendships; overall they provide a great new way to communicate."
He continued, however, "As these sites become more and more popular . . . it's vitally important that safeguards are in place that provide users with control over their personal information to ensure they don't receive unwanted solicitations."
And Schumer also wrote with regards to the lengthy series of steps required to decline using Facebook's latest features, "This opt out procedure is confusing, unclear, and you might even say hidden."
Facebook, meanwhile, is standing by its privacy controls and experiment involving Microsoft, Pandora, and Yelp, so it doesn't look like Schumer's letter will incite any changes on its own at this point.