This week, Oprah is filming the final episodes of her long-running daytime staple The Oprah Winfrey Show. Because of this fact, the internet is feeling the Oprah buzz and we have just received some information from Yahoo about just how much the world is searching for Oprah related topics.
On the whole, searches for Oprah are up 56% this week on Yahoo.
This month, some of the top search terms are about Oprah. The hottest Oprah related search is "Oprah middle name." (Gail, FYI) Other hot searches according to Yahoo:
What college did Oprah attend? (Tennessee State University)
How much is Oprah worth? ($2.7 billion according to Forbes)
Why is the Oprah show ending? (nobody really knows, but Oprah has hinted that she feels like it has just run its course)
How tall is Oprah Winfrey? (5 feet, 6 inches)
There is an obvious "Oprah Effect" when it comes to search as well. And whenever Dr. Oz talks about a product on her show, searches spike. When he discussed "steel cut oatmeal" searches increased 5,400% on Yahoo. When Dr. Oz demonstrated the use of a "neti pot" it spiked 12,325% as a search term. The search "buy neti pot" jumped 42,480%. The woman can make people do things – that's a fact.
One of Oprah's segments on her show that has caused the most buzz and parody is her "favorite things" episodes, where she gives the studio audience a bunch of stuff for no reason. People freak out, cry, scream and writhe about in giddy ecstasy. It's quite the spectacle to behold. She's given audience members everything from iPods to brand new cars. Last November, when the favorite things show aired, Yahoo searches exploded for Oprah.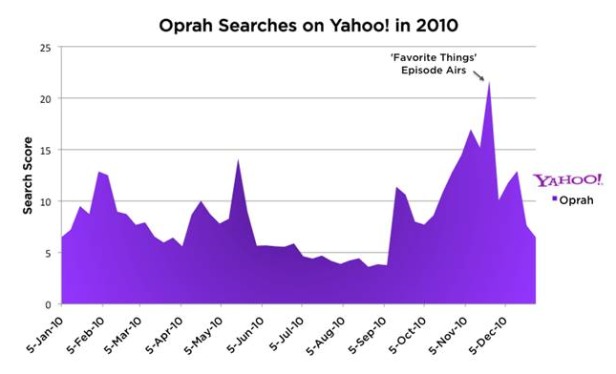 So what's the demographic of most of the people searching for Oprah? 73% are women. The 35-44 year-old age group is the one most searching for her. This month, Illinois is the top state for searches, which is no surprise considering her Chicago connection. The next most Oprah crazed states are Missouri, Michigan, California, and Georgia.
This week, Oprah is filming her final episodes. The two-part penultimate episodes are being called the "surprise Oprah" episodes and feature a who's who list of Hollywood and other pop-culture elite. The first part will air May 23rd and is hosted by Tom Hanks. The second part will air May 24th and is hosted by Will Smith.
With her final shows approaching, Yahoo is not the only place where Oprah has surged in search volume. The search volume for "Oprah" and "Oprah Winfrey" has more than doubled in Google as well, according to Google Trends: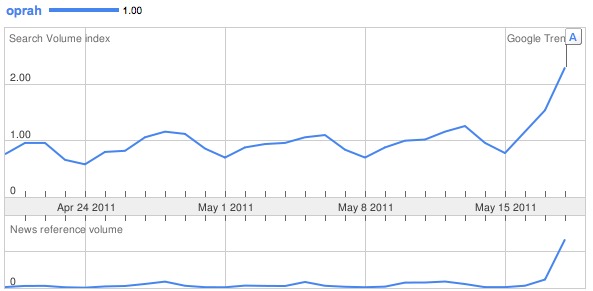 This week, searches for "when is Oprah's last show" are also off the charts according to Yahoo. They say that 1/3 of these searches are being performed by men. So to answer that question – it will air on May 25th.