Google released a new Gmail Labs feature today that lets you search across email and Google Docs. If you turn it on and search from the Gmail search box, you will simply get results from both places, when applicable.
"Where is that presentation? Was it attached to an email? Or in Google Docs? If you're not sure, you may end up searching several places with the same query in order to find it. With the new 'Apps Search' lab, we just made that all a bit simpler," writes Google software engineer Bram Moolenaar.
"You may notice that mail results show up just as fast as before while non-mail results may take a tiny bit longer. That way, if you're just looking for an email, having this lab enabled won't slow you down," adds Moolenaar.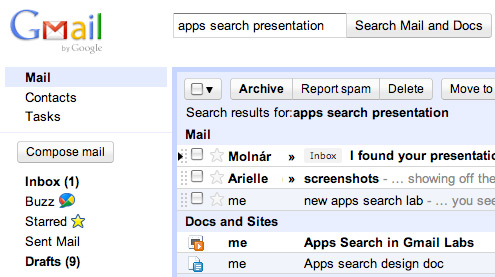 The feature also comes with "did you mean?" suggestions.
Given that the feature is a Gmail Labs experiment, it is subject to bugs, so keep this in mind if you turn it on. The feature can be turned on by going to Gmail settings, and clicking the "labs" tab. From there find "Apps Search".