If Eric Schmidt's to be believed, YouTube might become profitable any time now; the CEO had only positive things to say about the site at a conference today. However, his admission that it's still operating in the red may come as a major disappointment to many supporters.
The problem is that we've heard optimistic talk before. An abbreviated history: in July 2009, Google's CFO indicated profitability wasn't far off for YouTube. This March, a director of video partnerships agreed. Then Schmidt himself echoed the sentiment in May, and Nikesh Arora used the words "imminent profitability" in July.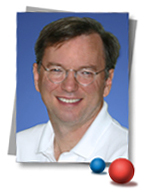 So lots of folks could have reasonably expected that YouTube would be carrying its own weight at this point.
Anyway, Schmidt's latest message, according to Mimosa Spencer, was that the site is "nearing profitability and its revenue is doing quite well. It looks like it's going to be very successful."
And of course, in fairness to Google, YouTube's become a household name worldwide, and the search giant's not exactly running out of money (its market cap is in the neighborhood of $152 billion right now).
As always, we'll see what happens.