The Salvation Army has launched a new free iPhone application in an effort to improve its fundraising for its Red Kettle Campaign.
Developed by Charity Dynamics, the Online Red Kettle iPhone app allows people to do their own fundraising campaigns on behalf of the Salvation Army.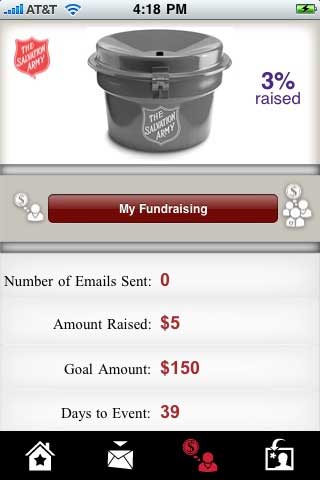 "Virtual bell ringers are an essential part of The Salvation Army's annual Red Kettle campaign, and now our new mobile app enables these online fundraisers to make an even greater difference," said Jason Wood, Director of Internet Services, The Salvation Army.
"By equipping today's 'fundraiser on the go' with such a convenient and effective fundraising tool, we're able to broaden our impact as an organization as we serve those in need this holiday season and throughout the year."
The app allows people to:
*Make updates to their personal fundraising page that is optimized for their mobile device;
*Track their fundraising progress with a customized Red Kettle donation meter;
*Take photos and immediately upload them to their personal fundraising page;
*Send fundraising appeals to friends, family and other contacts.