BlackBerry maker Research in Motion (RIM) has reportedly acquired most of the DataViz team. CrackBerry.com broke the news, which was confirmed by John Paczkowski at Digital Daily. DataViz is known for developing Documents to Go.
"News of the acquisition follows DataViz's cancellation of development for Docs To Go for webOS last Friday," says Paczkowski. "Makes you wonder if the same fate awaits the versions for iPhone, Android, etc., now that the deal's official."
DataViz describes itself:
DataViz is an industry leader in developing and marketing Office compatibility and productivity solutions across a variety of platforms including Apple iPhone, Android, BlackBerry, Java, Linux, Maemo 5, Palm OS, Symbian OS, WebOS, Windows Mobile, Windows and Macintosh. Founded in 1984, DataViz began its business developing file conversion software and has since expanded its expertise to providing solutions that meet the increasing demands of the handheld and mobile markets. With enterprise-grade solutions that include its award-winning mobile Office suite, Documents To Go, and wireless Microsoft Exchange ActiveSync client, RoadSync, DataViz is committed to developing premium solutions that mobilize 'Microsoft Office' without compromise and providing customers with instant access to critical files and business data.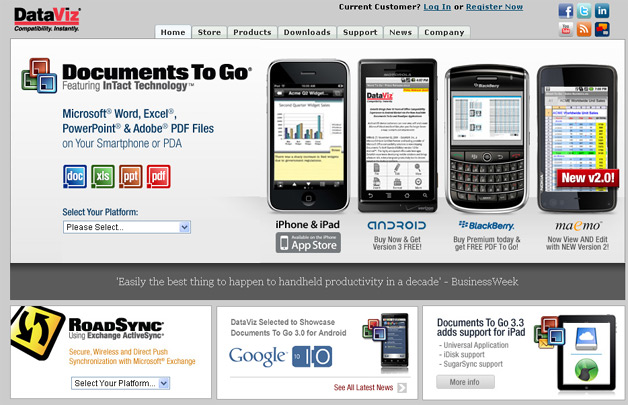 DataViz has held a licensing partnership with RIM in the past (as well as with Microsoft, Palm, Sony Ericsson, Motorola and Samsung).
Financial details about RIM's acquisition of DataViz assets are unknown, as is the extent and plans of the acquisition itself. We'll no doubt be hearing more about this in the near future.