A new report from Econsultancy suggests that email still beats social networks when it comes to marketing for e-commerce. The report says that over a third (37%) of consumers don't use a social networking site, and that those who have become a "fan" or "friend" of a company or brand online are still in the minority.
Is email marketing more effective than social media for you? Let us know.
The report is based on a survey of over 1,400 U.S. consumers, which the firm calls "nationally representative."
While Facebook may think email is "probably going away," marketers are still having a great deal of success with it. And just as increased mobile adoption continues to fuel social media use, it's not exactly hurting email.
The report suggests that the rise of mobile will continue fuel email's success. It notes that each generation of chipsets moves mobile devices closer to the personal computer. "Advanced behaviors today (accessing the Internet or checking email from a mobile device) will clearly soon be commonplace, at least for people in their working years. Nearly two-thirds of people under 24 have checked email on a mobile device," Econsultancy says.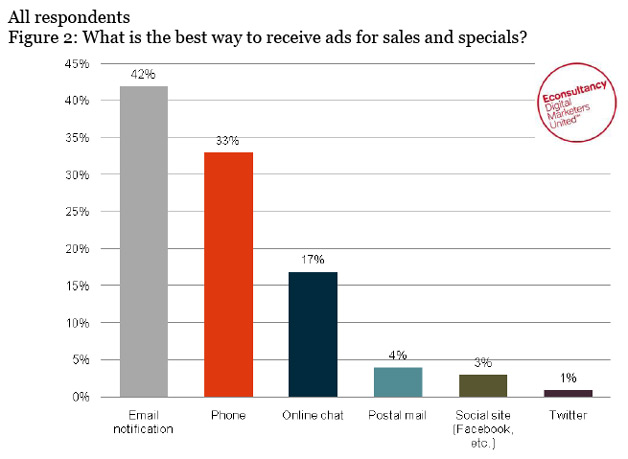 "Online product research contributes a far larger percentage of total retail than the 8% directly attributed to e-commerce, while the evolving nature of digital interaction and customer service is changing the fundamental relationship between companies and consumers," says Econsultancy's US Research Director, Stefan Tornquist. "The winners will be those who use digital communications most effectively, to influence and enable both online and offline purchases."
"Although a variety of media are competing for consumer attention, email continues to be the desired channel for many types of commercial communication," adds Tornquist. "Social networking and its effect on the nature of brand is the hottest topic in digital marketing, and deservedly so. It's still worthwhile for marketers to remember that social network adoption is far from maturity."
The entire report can be found here.
Of couse, it's not really a competition between social media and email. Both should be part of your marketing arsenal, and are effectively used together all the time. For example, another recent study from ExactTarget found that nearly 40% of consumers visit Facebook and Twitter to supplement the news, information or deals they receive via email marketing.
In what ways do you incorporate social media into your email strategy? Share with other WebProNews readers.