Rand McNally has relaunched its travel website, offering new travel and destination content, video travel guides, and travel services.
RandMcNally.com now features upgraded maps and directions, information on more than 15 million points of interest, more than 2,000 destinations, and offers more than 8,000 video travel guides.
"For years, Rand McNally has been the definitive source for U.S. Travel – from drivers to RVers to motorcycle riders," said Dave Muscatel, CEO of Rand McNally.
"With this new site, we're able to expand the resources for travelers as well as those looking for inspiration about what to do in their own backyard."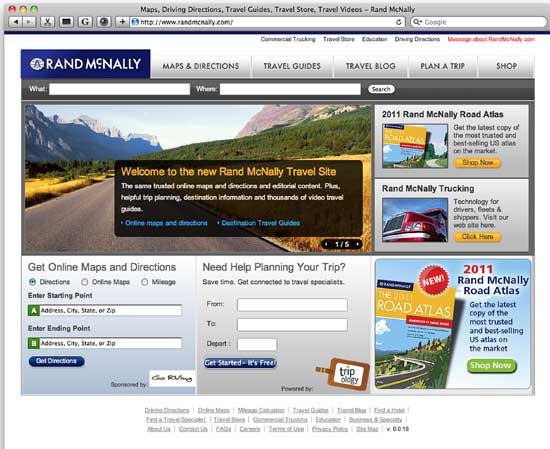 On the new site, users can research North American destinations, view video content, read up on an area, look at maps, search for hotels and explore locations specified as "picks" by Rand McNally editors. Travel editors will also offer updated information via blogs and articles.
The new site also contains an upgraded maps and directions feature, including the mileage calculator and point-to-point directions that travelers expect from Rand McNally.
"Our new website provides what others can't. The unique combination of trusted maps & directions, more than 8,000 video travel guides, travel advice from Rand McNally, and travel services led by our recent acquisition, Tripology," said Jeff DeKorte, Senior Vice President of Travel and Digital Media at Rand McNally.